Did we miss anything in this location? Is there something we didn't discover? Let us know!

Makeshift Shelter
Yawning Portal - Downstairs
1 - FORMER HENCHMEN
Four henchmen from NWN are waiting downstairs. They include Tomi Undergallows, Sharwyn, Daelan Red Tiger, and Linu. They won't follow you at this point, but you can pick them up later.
2 - PARLEY
A druid named parley will cast a defensive spell on you if you listen to her story.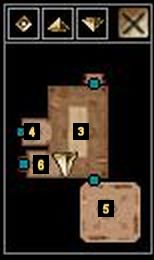 Yawning Portal - Downstairs
3 - DURNAN
Durnan fills you on the situation: the drow are assassinating certain people in Waterdeep and they're coming through Undermountain. Durnan is organizing a party of adventurers to explore Undermountain to find out how the drow are coming through and stop them. As he is finishing the briefing, drow warriors ambush the party.
4 - WELL ROOM
This door leads to the well room.
5 - KITCHEN
The kitchen contains items that may be of interest to item crafters. There are some hides, some meat and some rags.
6 - TO WATERDEEP
This door leads to Waterdeep. Most of it is inacessible, but there are two shops that are still open.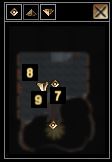 Well Room
7 - WELL BATTLE
After killing the Drow, you'll go into the well room to fight the rest. Durnan will seal the well, but a beholder will pop up and zap the two of you. The four Neverwintans will head down the well after it. Durnan wants you to go after them, but only after you have stocked up on supplies and prepared yourself.
8 - WHITE THESTA
White Thesta will heal you and sell you some more powerful items than the ones you got in the armory (although the shops in Waterdeep are better still). She'll also give you a rod of resurrection, which you'll need to revive the four Neverwintan henchmen, who are scattered throughout the first two levels of Undermountain.
9 - DEEKIN
Your old pal, Deekin, will join you if you let him. If you ask him about his training, he says that he can become a red dragon disciple if you want him to. I strongly recommend taking Deekin along because he is the only henchman that you can take through all three chapters. You will not be allowed to take any of the Neverwintans into the Underdark.