Did we miss anything in this location? Is there something we didn't discover? Let us know!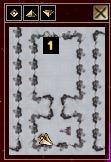 Wastes of Cania
Wastes of Cania
1 - PLANAR GATE
When you leave the temple wearing the Sleeping Man's ring a door will appear. Use it to get to the Wastes of Cania. Your first task will be to defeat a demon. The tricky part about this fight is that you will keep polymorphing unexpectedly. After the fight, you figure out that you can use the sensei's amulet to polymorph yourself into a pixie, an earth elemental, or a wolf. You'll need to become an earth elemental to clear the fallen ice that is blocking the door to the next area.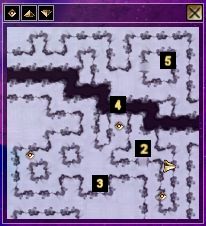 Deeper Wastes of Cania
2 - ICE TROLLS
There are ice trolls in this next area. After you've dealt with them, you can rest by their campfire if you have enough velox berries to light it.
3 - MIMIC'S CHAMBER ENTRANCE
You can't follow the arrows past this point, so you'll have to enter the door behind it to enter the Mimic's chamber. Before entering the Mimic's Chamber, you might want to explore the Worg's Den to the west. You can get a Ragged cloak of the Worg and a Rapier with the wounding property if you do. You'll need to use the amulet to shapeshift into a wolf to enter.
4 - WIDE CHASM
When you are through with the Mimic's Chamber, you'll need to use the demon hand to pull you across this chasm. Line yourself up with the torch bracket across the way and then "use" the hand.
5 - LONG DEATH ENTRANCE
Enter this door to get to the next area.