Did we miss anything in this location? Is there something we didn't discover? Let us know!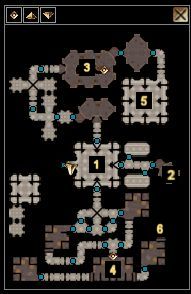 Ruins: Level Two
Ruins: Level Two
1 - GOLEM FEUD
The golems down here are a war with one another. Both sides are sentient, but one still follows the Maker, who is dead, the other wants freedom.
2 - MASTER'S ASSISSTANT
If you can get into this room (not that easy since the DC on the trap is too high for Valen), you can speak to the Master's assistant. One way to get in, if you are a druid or ranger, is to ask the rat hanging outside the door to help you out. Give the Master's assistant the soul gem from the pedestal behind him and he'll tell you the password to get past the mithril golems guarding the master's lair.
3 - AGHAAZ'S CAMP
Aghaaz wants you to bring him the head of Ferron. In return, he'll send his golem army to help you fight the Valsharess.
4 - FERRON'S CAMP
Ferron wants the Power Source that Aghaaz is hoarding so that his followers can leave. He says they'll help you fight the Valsharess if you get it for them. Let your alignment be your guide. Either way, two golems show up when it's time to fight the Valsharess.
5 - POWER SOURCE
The power source is in this room. When you take it back to Ferron, he will assure you that the golems will join you in the big battle with the Valsharess.
6 - Level Three Stairs
These stairs lead to Level Three.