Did we miss anything in this location? Is there something we didn't discover? Let us know!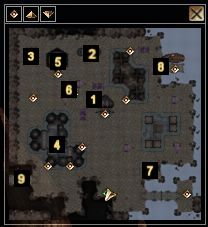 Lith My'athar: City Core
Lith My'athar: City Core and Port
1 - RUDE DROW
If you've been finding all the helpful drow to be bizarre, don't worry. Most of the other drow you run into don't appreciate your help, as you'll find out when you encounter this group.
2 - RIZOLVIR
A smith named Rizolvir can upgrade your weapons for you here. The minimum cost for doing this is 50,000 gp, but he can add all kind of enhancements, like making your weapon haste you permanently or give you True Seeing.
3 - CHUG!CHUG!CHUG!
At the ale gardens, there is a svirfneblin slave being forced to drink in a drinking contest. You can convince his master to let him stop, thereby saving his life and earning some good points. You can also refuse to get involved, in which case he'll die of alcohol poisoning.
4 - FAMILY FEUD
You can get a quest at this inn to assassinate a drow Matron for her daughter. She assures you that if you don't the Matron will betray the Seer, but if you do the daughter will support your side. Basically, you should just take this quest, regardless of your alignment. The daughter is actually telling the truth, so if you don't assassinate the Matron Mother, you will have to fight her and all her guards during the final battle with the Valsharess.
5 - HOUSE MAE'VIR
If you want to take on the assassination quest, you'll go to this building and attack the Matron Mother after speaking to her. You'll get 5000 xp and 20,000 gp for doing this, your alignment won't take a hit, and you won't have any trouble from House Mae'vir later on. If you kill the Matron Mother's chief guard (or persuade her daughter to give you a better reward), you'll get his +5 keen Scythe.
6 - GULHRYS
Grand wizard Gulhrys has good magical items for sale, but they're also very expensive.
7 - ILMOTH
Commander Ilmoth will give you more advice about your upcoming battles at this location.
8 - THE DOCKS
At the docks, Cavallas will take you across the river to the islands and tell you a bit about what you'll find there. One of the islands is filled with golems, the other is apparently inhabited by Alvariel.
9 - MANIFEST DESTINY
This exit leads west, to the beholders, and mind flayers, and undead (oh my!).