Did we miss anything in this location? Is there something we didn't discover? Let us know!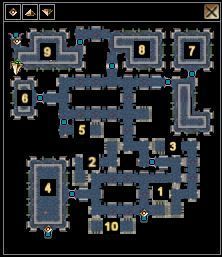 Undermountain: Level One (North)
Undermountain: Level One (North)
1 - GREEN ROD
The green control rod is found on a corpse here.
2 - COCOONS
A secret door leads to this hall, which has some good loot in spider cocoons.
3 - ORC AMBUSH
A secret door leads to this hall, where you are ambushed by orcs.
4 - MAZE ROOM
This room has several pillars that zap you with magical energy if you step on the trapped areas around them. While you are carefully working your way through the maze of untrapped floor space to the levers that turn the pillars off, drow marksmen harass you with arrows. You can also destroy the towers with spells or ranged weapons. Just make sure not to step on any of the trapped areas. Your reward for making your way to the chest in the back is an adamantite breastplate.
5 - ILLUSION ROOM
This room is full of chests, but if you touch one they all turn into bats. Use Dispel Magic and the chests will still disappear, but they will leave treasure.
6 - RED ROD
The Drow in this room have the red rod.
7 - SARCOPHAGUS
This room contains a sarcophagus, which of course triggers a fight with a mummy lord when opened.
8 - WHITE ROD
A chest in this room contains the white rod. You'll have to fight some ogres to get it.
9 - OGRE BOSS
The ogre boss, Olgin Hasterean, is an unusually intelligent ogre mage. When you've beaten him, you can question him about getting to the next level through the stairs in his chamber (the passage is sealed and you'll have to blast using alchemist's fire), then let him go or finish him off.
10 - PRESSURE PLATE PUZZLE
This secret room has two chests that only appear if someone is standing on a pressure plate. Have your henchman stand on the plate and then tell him to "Stand Your Ground". You can then open the chests.