Did we miss anything in this location? Is there something we didn't discover? Let us know!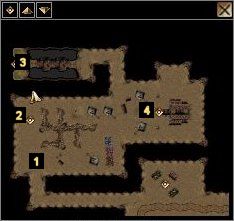 Oasis of the Green Palm
You get your next quest right off the bat, as Katriana tells you that the caravan is running short on water but she's having a hard time convincing the locals to give her any.
1 - ZOMBIE BATTLE
When you find them around the corner, they are being attacked by zombies. After killing the zombies, their leader tells you that there isn't any water at the oasis because the local boogey man used his power to dry it up. Your next task is to kill the evil spirit by finding the rod that holds his life force and placing it on the altar of Lathander.
2 - CATACOMB OF AL-RASHID
The Catacomb of Al-Rashid is optional, but if you kill all the zomibes and statues, then solve the puzzle, you'll get the Desert's Fury, an enchanted weapon (the type differs depending on your class) which is helpful in killing all the undead that are wandering around. The puzzle is easy to solve; just look around at all the banners with X's on them. If you really want the answer: place the rune stones on the pressure plates in the shape of an "X" (4 in a square in the middle, three at the corners of the square) then step on the last corner square yourself to open the sarcophagus. Apparently, it's not considered grave robbing if there's a nifty puzzle involved.
3 - TOMB OF KEL-GARAS
The entrance to the Tomb of Kel-Garas.
4 - TEMPLE OF THE MORNINGLORD
You'll visit the Temple of the Morninglord after the Tomb of Kel-Garas.