Did we miss anything in this location? Is there something we didn't discover? Let us know!

Anauroch Desert
At the beginning of the "interlude," you have been traveling with the halfling caravan for a few weeks and have left the snowy mountains of Hilltop for the desert wasteland of Anauroch.
1 - STINGER AMBUSH
After speaking to Katriana, your party is attacked by stingers. Your guide turns up missing at the end of the fight, so your first quest is to find him, since you'll be stuck in the middle of the desert if you don't. The caravan is your headquarters for this chapter and Katriana will sell you stuff now.
2 - DASCHNAYA
Daschnaya will give you healing and sell you potions. She'll also give you a bit of foreshadowing by telling you the history of the desert. Apparently, it used to be part of the Netheril Empire and was home to massive flying cities. The divining pool for this chapter is in her wagon.
3 - BURROW HOLES
Entering one of the three burrow holes leads you to a cavern under the desert floor.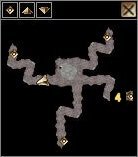 Underground Tunnel
4 - EXIT TO STINGER CAVES
This tunnel leads deeper into the cavern to the Stinger Caves.