Did we miss anything in this location? Is there something we didn't discover? Let us know!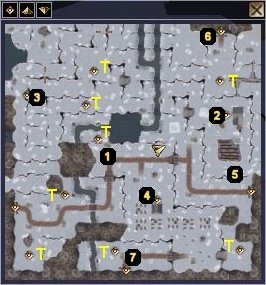 Foothills
1 - FERRAN VALIANTHEART
An elf named Ferran Valiantheart will tell you that the kobolds split up after they were attacked by gnolls. Some went to an elven crypt, the rest went north toward the mountains. One actually left the crypt and headed east, toward a human village. Ferran is on his own quest to kill a Shadow Hart, a magical creature in whose horns lies the cure to Ferran's wife's illness. Finding the Shadow Hart is not easy. I couldn't do it with my paladin, but when I went back through as a ranger, I was able to spot the tracks. You need a decent level of spot skill to be able to find them. There are eight places on the map where it's possible to find tracks (marked with a "T"). When you find him you can kill him and give the horns to Ferran (he'll give you his enchanted bow if you press), or if you're a ranger or a druid, you can warn him to get some points toward good. If he teleports away, he'll reappear at one of those eight locations, but can't heal himself. Incidentally, you can also kill Ferran if you want and take the horns of the Shadpw Hart to Fiona, who will make them into a helmet that will cast Ghostly Visage.
2 - DWARVEN FARM
To the north you'll find a duergar dwarf who has a problem he's willing to let you help out with. A giant has recently stolen his daughter and he'd like you to get her back.
3 - HILL GIANT CAVE
The giant, Rumgut, lives in a cave to the west. You can try to persuade him to let the dwarf go, but he's not very bright, so he's not likely to listen to reason. Other options include challenging him to a drinking contest (then only pretending to drink), waiting until he falls asleep after his next meal, and letting him put you in the cage, then crawling through a small tunnel in the wall. I was not able to beat him in a straight fight, at this point, but if you carried a high level character over from NWN, you may be able to. Regardless of how you resolve the problem, when you return Becka to her father, he gives you an amulet and the run of his house.
4 - ELVEN CRYPT
This is the entrance to the Elven Crypt.
5 - THE HAND GUIDES YOU
When you leave the crypt, the mummified hand will shake in your pack to get your attention. If you're brave enough to use it, it will point you east, toward Blumberg. If you go to this exit before Deekin leaves the map, you won't actually have to go to Blumberg, because he will give you the quest to free him from Tymofarrar here, then come and find you when you have the other three artifacts.
6 - EXIT TO NETHER MOUNTAINS
This way to the Nether Mountains.
7 - EXIT TO THE HIGH FOREST
This exit leads to the High Forest.