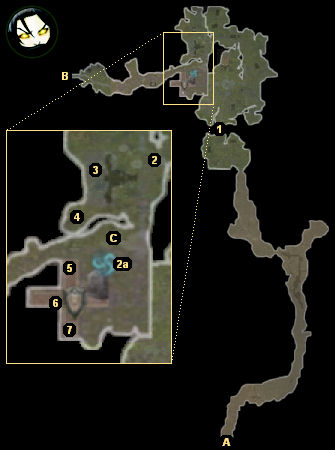 Did we miss anything on this map? Is there something we didn't discover? Let us know!
1 - Bridge
This bridge will play a role in the secondary quest
Minli the Faerie
.
2 - Danadel
You'll first meet Danadel next to the front gate to the city (#3), but then he'll move next to the teleporter (#3a). Danadel will be your main contact for the primary quests in Part 2 of the campaign.
3 - Kylis
Kylis will trigger the secondary quest
Minli the Faerie
.
4 - Liranth
Liranth won't have any sort of marking over his head, but he's involved in the secondary quest
The Ancient Tome
. He'll give you a
Vial of Aman'lu's Blessed Water
(Quest Item 17) when you talk to him.
5 - Talain
Talain will give you the secondary quest
The Vai'kesh
. On the ground next to Talain, you can pick up
The Crimson Hunters
(Book 9).
6 - Book
In the shelf here you can find
The Enemies of the Edhel
(Book 8).
7 - Elevator
The elevator here will take you down to an area underneath the tavern, where you can once again participate in the
Aman'lu Arena
.
Exits:
Path to Arinth's Gorge.
Bridge to the Western Vai'lutra Forest.
Portal to Solanum. Danadel (#2) won't create this portal until you've completed the primary quest The Second Familiar Surgeon.