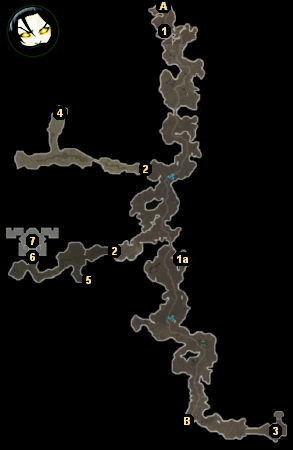 Did we miss anything on this map? Is there something we didn't discover? Let us know!
1 - Tomas the Merchant
Tomas will tell you about his partner Anya (#1a), and how she went crazy on him. This is the trigger for the secondary quest
Anya
. Once you've completed the quest, Tomas will turn into a general merchant, and he'll become a good source for recipe supplies.
On the ground next to Tomas you'll find a copy of
A Merchant's Travels
(Book 4).
2 - Magically-Sealed Door
You won't be able to go through this door until after completing the primary quest
Kanred the Mage
.
3 - An Abandoned Mine
When you walk into the back of the mine, you'll update the secondary quest
Hunt for the Lost Dwarves
. See that quest entry for more information.
Inside the mine you'll also find a couple of torches to light and the recipe for the
Druid's Walking Stick
. Like with most of the torches in the campaign, clicking on them will simply light them, and nothing else will happen.
4 - Ancient Tome
At the back of this cave you'll find an
Ancient Tome
(Quest Item 6). Picking it up will trigger the secondary quest
The Ancient Tome
.
5 - Ancient Agallan Tablet
If you're playing the Mercenary difficulty setting, then inside a chest here you'll find an
Ancient Agallan Tablet
, which you can use at the
Dryad Outpost
to trade for an item.
6 - Guarded Door
The guardian statue outside the door won't let you pass until you've learned the password, which won't happen until after you've completed the primary quest
The Mage's Tutor
.
7 - Ruined Traveler's Sanctuary
This is where you'll run into Eliza for the secondary quest
Missing
. You'll also find four level 36 sanctuary doors here, one for each of the core classes.
Exits:
Path to the Dryad Outpost.
Path to the Blighted Hills.