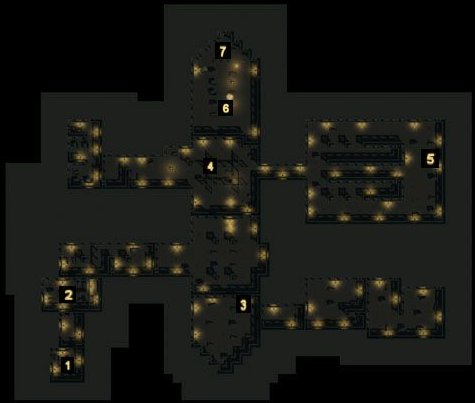 Did we miss anything in this location? Is there something we didn't discover? Let us know!
Crypt Level One
1 - ENTRY CHAMBER
Instead of a save point, you are greeted by the undead as soon as you enter this room. Be careful, as sometimes when you've beaten on an undead, the top half of his torso will crawl over and attack you.
2 - FAYED
Fayed is the priest of Ilmater that tends to this crypt. He tells you how to get to the lower part of the crypt and gives you a little more information about the evil orb below. He decideds to stay in this room and will give you healing when you need it.
3 - SAVE POINT
This save point serves the southern area. The rooms beyond contain some minor treasure.
4 - SAVE POINT
This save point serves the northern area. You'll go through here to get to the lower levels and find the medallion.
5 - MEDALLION
The medallion you're trying to recover for Ipswitch is in this room. When you return it, he gives you a light mace of disruption and 300 xp.
6 - STAIRS UP
This stairway leads up to town.
7 - STAIRS DOWN
This stairway takes you deeper into the crypt. To open it, push the urns in the room on top of the wooden squares on the floor (you'll hear a click when the urn is on the right square).