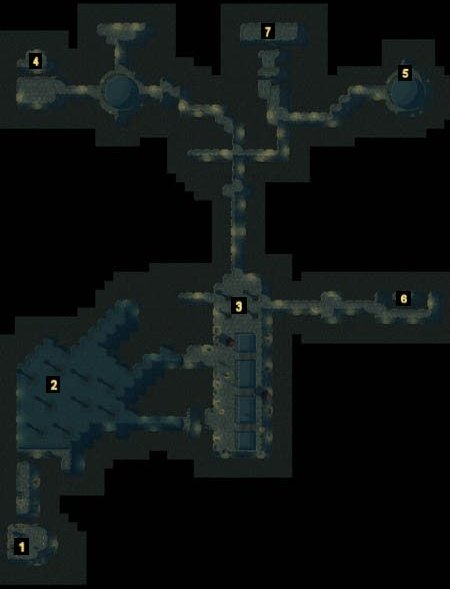 Did we miss anything in this location? Is there something we didn't discover? Let us know!
Sewers - Level Two
1 - SAVE POINT
There are some barrels that you can ignite and a save point in this room.
2 - LARGE ROOM
This large room contains a few bugbears and a few gelatinous cubes.
3 - SAVE POINT
A large group of kobolds hang out in this room with a couple of bugbears. When you dispatch them, there is a save point to use. Either direction you take to press on leads to a room where you must avoid steam jets.
4 - J-E-L-L-O
There are lots of gelatinous creatures in this area. Make sure you are stocked up on ranged ammo. Make your way to the back room to push one of the levers that opens the circular doors.
5 - NEXT LEVER
More jello creatures guard the second lever needed to open the circular doors.
6 - LAST LEVER
Backtrack to the other fork in the steam jet puzzle path and pull the last lever.
7 - TO CRYPT
This stairway takes you to the Crypts of Ilmater.