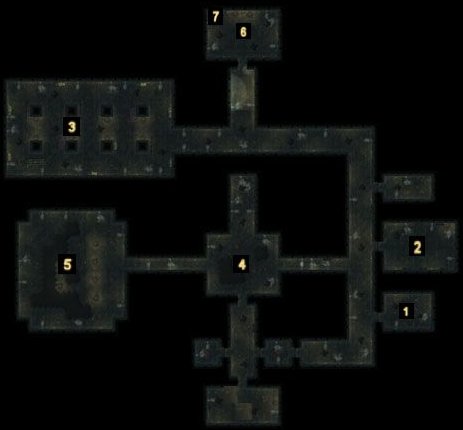 Did we miss anything in this location? Is there something we didn't discover? Let us know!
Inner Keep
1 - CHEST
Don't forget the chest in this room.
2 - MORE CHESTS
There are two chests in this room and one in the next.
3 - LOOT
This room holds a goodly amount of treasure.
4 - UMBER RUMBLE
Two umber hulks wait for you in this area.
5 - KOBOLD BASE
A mob of kobolds guards a couple of chests in this room.
6 - SESS'STH
The fight with Sess'sth is a toe to toe bash-fest. Keep trying to hit him in the back and you'll burn through less potions.
7 - TO ROTTING BOG
This archway leads to the Rotting Bog.