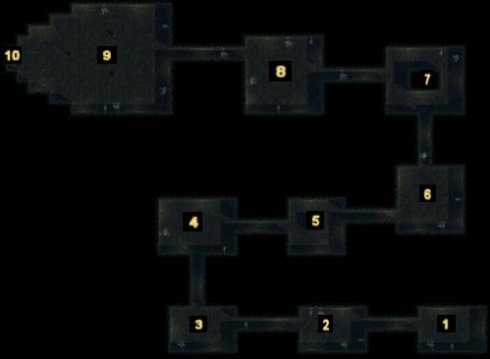 Did we miss anything in this location? Is there something we didn't discover? Let us know!
The Gauntlet
1 - STARTING
The Gauntlet is a test of your ability to dispatch enemies quickly and efficiently. If you can kill all the monsters on the level in under fifteen minutes, you'll unlock the Extreme difficulty level. Beat the game on Extreme, and you'll unlock Drizzt Do'Urden as a playable character. The room you start out in doesn't have any enemies, but it does have some chests to loot.
2 - SPIDERS
This room has huge spiders and one chest.
3 - KOBOLDS
You'll be attacked by a horde of kobolds.
4 - UMBER HULKS
Several umber hulks hang out here.
5 - MORE SPIDERS
This time there are giant spiders, too.
6 - GNOLLS
Gnolls and kobold shamans wait for you here.
7 - MORE GNOLLS
This group of gnolls has captains, as well.
8 - GARGOYLES
You're bombarded by gargoyles here.
9 - DROW
The last group to take on is made up of drow, huge spiders, and a steel golem.
10 - EXIT
Leave here after the monsters are dead and you'll get a save game called The Gauntlet that unlocks Extreme difficulty mode.