Did we miss anything in this location? Is there something we didn't discover? Let us know!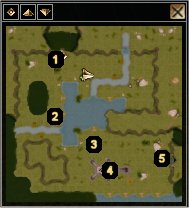 Ruins
1 - EXIT TO FORT ILKARD
Follow the path from here to get back to Fort Ilkard area.
2 - CULTIST AMBUSH
Once again you will be ambushed by a Cultist group which consists of several Cultist Archers led by a Cultist Leader. This is also a sign that you are once again near the location of another Word of Power. The leader of this group drops a Journal that contains information about this area and the surrounding ruins.
3 - VOLCANIC OAK SEED
In the middle of the standing stones here you will find a Volcanic Oak Seed. If Linu shared her tale with you in this Chapter you will know that the seed is what Linu wants (see also our Henchmen Section for more details).
4 - SUMMONING PORTAL
This strange temple-like place is actually some kind of a portal for Slaads. You will have to destroy at least one of the altars in the middle and the summoning circle will be destroyed. Also the light sources around this place have either positive or negative results if you stand upon them. The lights could be some kind of a riddle but I never found anything (if any of you found out anything more about these lights feel free to
email us
about it).
5 - ENTRANCE TO THE CREATOR RACE RUINS
Guarded by a few Umber Hulks and a Battle Devourer this is the entrance to the Creator Race Ruins and the place where you will find another Word of Power.