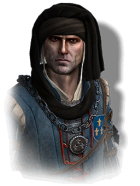 There is a man like Vernon Roche in every monarch's retinue. Brave and determined, ready to execute any command, and thoroughly hated at court, he knows that only allegiance and service to the king keep him in his position. Roche was the leader of the Blue Stripes - King Foltest's special forces - renowned, among other things, for battling the Scoia'tael and quelling many a rebellious nonhuman community. It was under his command that the unit rose to fame. Vernon earned Foltest's favor and trust through his deeds. One word from the King and he would jump headlong into fire, asking only how long he was to stay there and hold his ground. That's the kind of man Vernon Roche was at the time.
Vernon proved to be perceptive when he refused to flatly believe Geralt's guilt. Too many things needed to be explained, and the Blue Stripes' commander decided risking cooperation with the suspect to get his hands on Foltest's real killer. Thus he remained loyal to his king even after his death.
Continuing his private investigation, Vernon headed for theTemerian-Aedernian border, where he expected to find clues the kingslayer's whereabouts. Thanks to his very best informant, Roche knew that the man could have been hiding among the Scoia'tael located in the vicinity of Flotsam, a trading post. Thus way the royal hound, Vernon Roche, was on the hunt once more...
The list of Vernon Roche's achievements and heroic deeds was almost as long as the list of the atrocities and depravities he had allegedly committed along the way. It is a fact that, as the scrawlings on the wall of the University of Oxenfurt say:"Pacifying nonhumans is like wallowing in mud - everyone gets dirty, generally with blood."