Hits: 630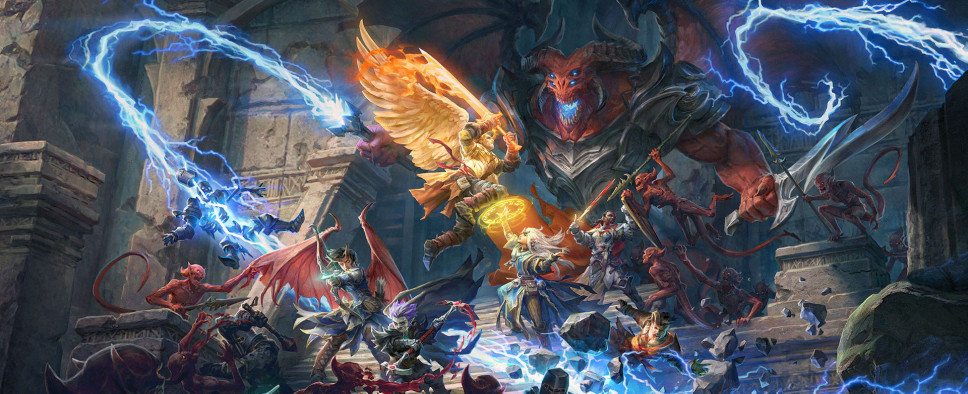 Owlcat Games released Pathfinder: Wrath of the Righteous about a year ago. And apparently, they now believe that the game is stable enough for a console release. And together with it, we're getting a PC Enhanced Edition that adds some new customization options, an updated pet UI, improved combat log, and a few bits of extra content.
You can find the update notes here and watch the Enhanced Edition trailer below:
Here are the key EE features:
Hello, Pathfinders!

You've heard that we've been working on a new update for Pathfinder: Wrath of the Righteous, with some quality of life features, UI improvements, controller support and new mythic content? Can't wait to become the Archpriest of Nocticula? Or to convince Greybor to sell his soul to you? Or maybe you just like taking a lot of screenshots, like one of our Community Managers who had to buy an additional hard drive for the screenshots of her OTP? Then welcome Pathfinder: Wrath of the Righteous Enhanced Edition! Now it's available for free to everyone who already owns the game, after you download the 2.0.0 update.

New features:

You can finally play with a controller. Lead the crusade from the comfort of your own pillow fort!
Customize your character's appearance by coloring and reforging your armor!
Save time looking for that specific scroll by using the inventory search function.
Can't figure out how you managed to deal so much damage? Check the enhanced battle log!
You no longer need to scroll right to see how your animal companion is doing, with a new addition to our UI for pet owners.
Unlock additional quest outcomes with new reinforcement options for various mythic paths in chapter 5.
Attend a special party your soldiers throw for you if you reject mythic powers on the Legend path.
Learn more about what your companions and friends do after the crusade in enhanced epilogues.
And finally, take beautiful pictures of your favorite moments with the new Photo Mode feature! Pause the game, free the camera from the bounds of isometric view, apply filters and frames, and make a wallpaper out of your favorite underground mushroom forest, that Wintersun waterfall, or the chaotic streets of Alushinyrra.

Download the 2.0.0 update, enjoy the new features, and don't forget to show us your screenshots!

If you don't want to update now, open the Betas tab in the game's properties and choose 1.4.4 branch. Don't forget to opt out when you are finally ready to check the new features, though!
And some info about the game's console version:
18:00 CEST Cyprus, Nicosia 29 September 2022: Owlcat Games today launched its critically acclaimed epic RPG Pathfinder: Wrath of the Righteous on PlayStation 4 and Xbox One (PlayStation 5 and Xbox Series X/ S via backward compatibility / Smart Delivery), as well as Nintendo Switch via the Cloud.

By purchasing Pathfinder: Wrath of the Righteous on consoles, players will get the Enhanced Edition right from the start, while all owners of the PC version will receive a free update to the Enhanced Edition today. The Edition features quality-of-life improvements, additional high-level content related to several mythic paths, a photo mode, and other features and tweaks. A photo mode on consoles will be added via digital update soon after release.

The console version includes all free DLC released on PC so far; premium DLC is available separately or as a Season Pass on PlayStation and Xbox. Premium downloadable content for Nintendo Switch will be released at a later stage. Players who purchase the physical edition will also get – in addition to the four separate sets of DLC - a set of stickers and the official printed handbook, introducing the Pathfinder Roleplaying Game universe to newcomers and featuring exclusive artwork. The physical edition is also available for PlayStation 4 and Xbox One. Check local stores for availability.