Hits: 673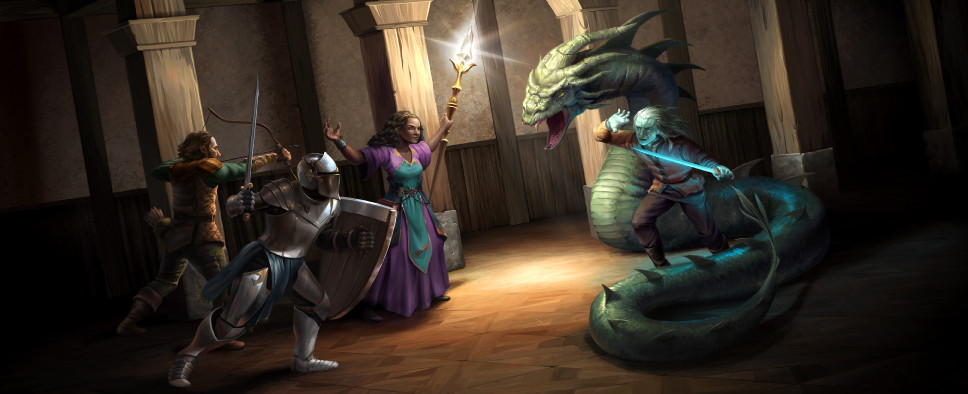 Barring any last-minute delays, Queen's Wish: The Conqueror - the first entry in Spiderweb Software's new RPG series - will be going live on September 11, 2019. The game will initially launch for Windows and Mac, with an iOS release planned for a later date. Here's the latest Kickstarter update with some additional details:
This monthly update is a little late, but we had a good reason. We have just officially announced the release date of the game, and we wanted to make sure you knew. Queen's Wish for Windows and Mac will be out on Steam, GOG.com, itch.io, and our own store on September 11, 2019! We will start the iOS version of it as soon as the game is out and we hope to have it out by the end of the year.

We finished the bulk of the game a month ago. Since then, we have been working through the million steps to get the game from my computer out into the world. Bug fixing has to be completed. Stores have to be contacted. Contracts have to be signed. Store pages have to be configured. PR has to happen.

We're working through all of this, bit by bit, and the long process will conclude in a month. The next time you hear from us, it should be to announce that the game is out!

* Notes to Backers

If you backed at a level that gets you access to the closed beta, the closed beta has started! We sent out an invitation to the group for the beta yesterday. If you didn't get it, check your spam folder or send us a message.

- Jeff Vogel
And a press release that offers a quick overview of the game:
August 8th, 2019 – Spiderweb Software, Inc., makers of fine indie adventures for 25 years, announces the release date for Queen's Wish: The Conqueror, our all-new fantasy role-playing epic for Windows, Mac, and iOS. The Windows and Macintosh versions will be available on Steam, GOG.com, itch.io, and other PC storefronts on September 11, 2019. Queen's Wish: The Conqueror had a successful Kickstarter, and our backers will receive their game on schedule.

You are royalty of the mighty empire of Haven! Your mother the Queen rules, while you enjoy a life of sheltered luxury. Then, one morning, you wake up to find yourself banished to your Empire's lost colony. You mother has declared your childhood at an end. Your mission? Prove yourself by reconquering Haven's rebellious vassals, or don't bother to come home.

At last, you have been given wealth, magic, soldiers. The Queen thinks you will submit and join the family business. Now that you have freedom and power, you might have other ideas ...

Explore an enormous outdoors and a multitude of towns and dungeons. Fight clever, carefully designed turn-based battles. Meet three different fierce nations and deal with them with bribery, diplomacy, or (if you choose) violence. Build new forts and customize them, choosing among upgrades that give your adventurers powerful bonuses.

To win the Queen's favor, you must rebuild your lost colony. Will you be a diplomat or a warrior of Empire? Obedient or rebellious child? It will be up to you. But beware ... Whatever path you try to take, the temptations to turn away from it will be cunning and constant.

The Windows and Mac edition of Queen's Wish: The Conqueror is planned for launch on September 11th, 2019 on Steam and other PC storefronts. The iOS version will release on Apple's App Store shortly after.