Hits: 38732
Page 3 of 4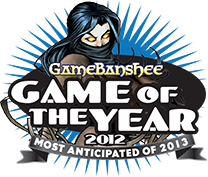 Wasteland 2

Was there any doubt that inXile's follow-up to one of the most influential RPGs of all time wouldn't take this spot? Wasteland 2 had one of the most popular Kickstarter campaigns in gaming, and frequent updates showing the game's progress and features have been leaking out since then.

There are some wild cards still out there, of course. Will a move to more modern technology and gameplay conventions change the classic RPG gameplay for the worse? Will inXile be able to deliver a sequel that retains the original game's distinct sense of humor and style? Will it even make its projected 2013 release date? While we may not yet know if it will truly manage to live up to its predecessor's legacy (or that of its spiritual successor, Fallout), we know there's no other RPG this year that we want to see or play more.



Independent RPG of the Year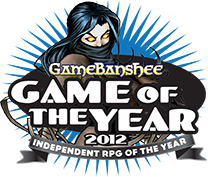 Legend of Grimrock (Winner)

Almost Human, a small studio full of Finnish game veterans, surprised us early this year with Legend of Grimrock, a title that's just about as old-school as it gets these days. Its grid-based dungeon-crawling, survival-oriented gameplay, and heavy emphasis on solving devious puzzles recalled the best of classics like Dungeon Master and Eye of the Beholder, but updated them with gorgeous modern-day visuals and extremely atmospheric sound design.

There was no other indie RPG this year that got us as excited as Legend of Grimrock did. What's more, it's proof that indie developers are clearly capable of producing very polished games that rival those of triple-A developers, and also that while genres may fall out of fashion, good gameplay will always keep people coming back.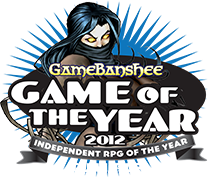 Drox Operative (Runner-up)

Soldak Entertainment has been putting out Diablo-inspired titles for a while now, and playing with random factors has become their modus operandi. Drox Operative, their latest game, combines randomly-generated hack-and-slash gameplay with 4X strategy, placing you in the thick of an interstellar ecosystem. It's unlike anything else we've ever seen, to put it plainly.

While we'd like to have seen a bit more variety in the random elements, and more specific objectives and scenarios to interact with, those are ultimately fairly small complaints for what is a very entertaining and original title. With high replay value, addictive gameplay mechanics and some great music, Drox Operative is one of the more creative RPGs we've seen in quite some time, and we would expect no less from independent developers.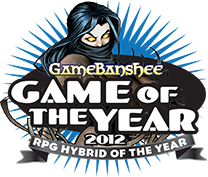 XCOM: Enemy Unknown (Winner)

Firaxis are no strangers to making strategy games, and many older gamers are doubtlessly familiar with X-COM, one of the genre's greats. For their reimagining of XCOM, Firaxis combined the classic tactical combat and strategic resource management and base-building with RPG-style leveling and ability upgrades for your squad.

There were few games this year that were as addictive as XCOM, and it featured that trademark "one more turn!" gameplay Firaxis is known for in full effect. What's more, it had deeper and more engaging combat than just about any other RPG this year, and this is despite it being a turn-based title, something the games press and publishers were bent on telling everyone was "out of date" for many years. If this is how the XCOM franchise is going to proceed from here on out, we certainly can't complain.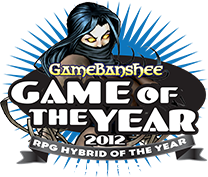 Dishonored (Runner-up)

Arkane Studios have a lot of RPG pedigree thanks to their previous titles, Arx Fatalis and Dark Messiah of Might & Magic. Dishonored sees them joining with Deus Ex designer Harvey Smith to make an RPG-shooter hybrid set in an industrial steampunk world. It's an ambitious game, but that ambition is expected when you call Deus Ex, Thief, and System Shock 2 your biggest influences.

While Dishonored is lighter on the distinct RPG mechanics than we'd often prefer, it captures the spirit of RPG gameplay - choice in solving solutions and open-ended systems-driven gameplay - with style and expertise. The consequences of your actions, whether in the end-game scenarios or in the smallest details in the environment, are also very well realized compared to other titles we played this year.