Hits: 37756
Page 2 of 4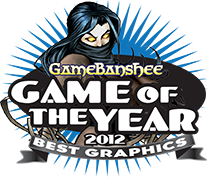 Darksiders II (Winner)

Vigil Games made its mark a few years back with the original Darksiders, an action-RPG that took a page from the Legend of Zelda games. Darksiders II is an evolution of that format complete with more RPG elements, but what really made it stand out was its incredible visual direction. An epic, adventurous game depends upon similar graphics to achieve its full effect, and Vigil Games did not disappoint.

Though it may not be the most technically sophisticated game out there, the sheer hand-chiseled artistry and attention to detail in every facet of its world is impressive by any standard, and stunning set pieces (like climbing a gigantic floating fortress carried by two flying serpents) elevate it beyond the mundane. Many games are able to look good, but few are able to awe us.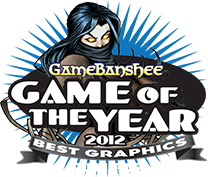 Mass Effect 3 (Runner-up)

Mass Effect 3 has the benefit of being the third in its series and having a huge development budget, not to mention some of the best technology in the games industry behind it, but the results speak for themselves. The sci-fi world of Mass Effect has never been more vibrant and alive, with both stunning vistas and attention to small details.

Characters in Mass Effect 3 continue to be a strong suit of BioWare's, and combined with quality cinematography, the Canadian developers did a great job of selling their "galactic apocalypse" scenario in a way that didn't lose the human elements. Even if the story didn't do it for you this time around, it's hard to deny how stylishly it's presented.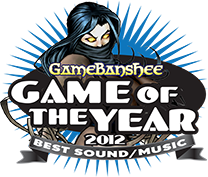 Mass Effect 3 (Winner)

If BioWare often gets one thing right, it's sound and music. Featuring a fantastic soundtrack that blends electronic elements with more traditional orchestral ones, Mass Effect 3's score underpins the action of the story excellently, whether it's frantic action or emotion and subtlety that's on the agenda.

Of course, the voice performances in Mass Effect 3 also need no introduction. With top talent all around and the actors fully comfortable in their roles, few other RPGs convinced us of their characters as much as Mass Effect 3 did.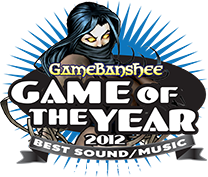 Darksiders II (Runner-up)

Creating the soundtrack to a wide variety of diverse worlds is a challenge, and Vigil Games pulled it off with Darksiders II. While its orchestral arrangements don't necessarily do anything out of the ordinary, its infectious melodies and themes run the gamut from beautiful to eerie and atmospheric.

Solid voice acting and effects work are just as crucial for invoking those same worlds, and Darksiders II managed to give its worlds-spanning adventure a sense of personality. Each distinct location in the game is communicated uniquely by varied and fitting sound effects, and the characters in each are plenty convincing.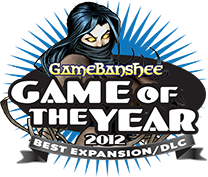 Dungeons & Dragons Online: Menace of the Underdark (Winner)

There have only been a handful of CRPGs that have afforded us the ability to experience Dungeons & Dragons' hard-to-achieve epic level content, and none of them have certainly ever pitted us against the goddess of chaos, Lolth. That changed in 2012, however, when Turbine brought us the ambitious Menace of the Underdark expansion pack for Dungeons & Dragons Online. Packed with a new epic destiny system, the new druid class, a variety of new environments, iconic monsters, god-like items (literally), and a bridge between Eberron and the Forgotten Realms, it was by far our favorite add-on of the year.

To sweeten the deal, MotD has opened the door for Turbine to continue moving further into Forgotten Realms and epic level territory. They've already released two significant updates since the expansion pack made its debut, and we're very much looking forward to what else is in store for us in 2013.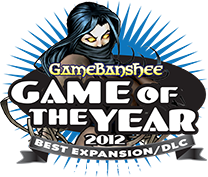 No Pick (Runner-up)

We realize that bite-sized, overpriced, downloadable content is not going away in this video game generation and likely many more to come. But after playing through an expansion pack like Menace of the Underdark and then turning our scrutiny toward the add-on competition, we just didn't feel like any of the various DLCs for Dark Souls, Mass Effect 3, Kingdoms of Amalur: Reckoning, and The Elder Scrolls V: Skyrim were deserving of our runner-up award given their entertainment value and price point vs. content. So, for 2012 anyway, we'll be stashing our award away in an attic somewhere for safe keeping.