Hits: 1638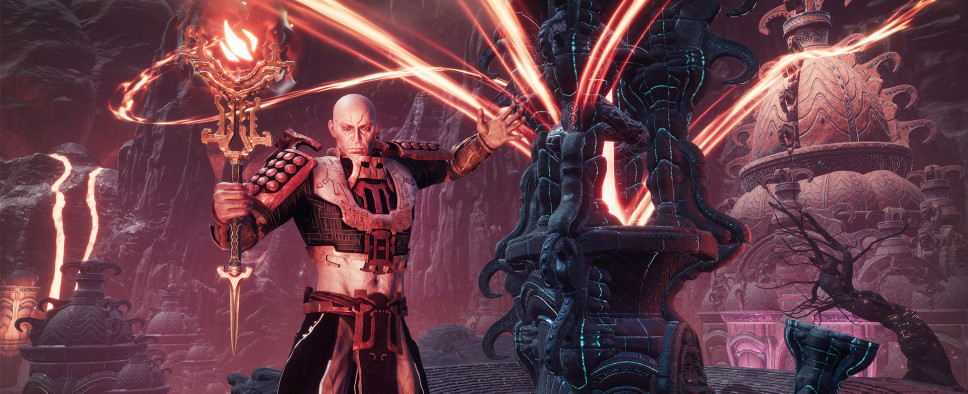 Best described as a series of themed content updates, the Age of Sorcery has come to an end in Funcom's survival RPG Conan Exiles with the release of its third and final chapter. This latest content drop concludes the Age of Sorcery story while also introducing the Golem Shaping system, an overhaul of the Journey system that should make things easier for all the new and returning players, and more.
And while the developers are already busy working on a new Age, we can check out this fresh trailer:
And learn more about the new chapter:
Greetings, Exiles!

The ritual has begun. Age of Sorcery – Chapter 3 is here!

As the Age of Sorcery comes to an epic conclusion, prepare to face the one responsible for the spread of sorcery in a brand-new boss encounter, shape your own custom Golems, and explore a fully redesigned Journey System.

In just seven months, the Age of Sorcery will have seen 3 chapters of free content, from the massive features like the Sorcery System and Golem Shaping, to full redesigns like attributes, building, and Journeys.

This is the final Chapter in the Age of Sorcery, from which a new Age will begin. Read on to discover more about what's new in today's update, and the path we are on!

As in the previous Chapter, you will be able to collect new items through our Twitch Drops, which we'll have more news about soon, including a fix for an issue that caused some people to have issues collecting their items.

CHAPTER 3 CONTENT OVERVIEW

RITUAL AND SACRIFICE

A brilliant spear of light in the sky, Mek-kamoses Spire can be seen from a great distance. From this new hub, speak to the sorcerer himself and help him stop Kurak's calamitous ritual. On this new adventure, you will eventually be transported face to face with Kurak in a brand-new encounter that will decide the fate of the Exiled Lands.

With the Age of Sorcery, we began to focus more on telling stories across multiple updates, something that we are excited to continue in future Ages.

GOLEM SHAPING

This massive new feature will have you craft and collect a wide variety of golem parts far and wide to assemble them into powerful constructs that aid you in battle and harvest resources for you, a first for the game.

After eons spent crystallizing in the earth, the ancient blood of the Giant Kings has risen to the surface. Collect this new resource by defeating new monsters, then use them in crafting your Golem.

For a comprehensive introduction to this feature, take a look at our Guide to Golem Shaping.

CHOOSE YOUR JOURNEY

For a long time we have wanted to improve the early experience in Conan Exiles, making it easier to learn the game without sacrificing any of the freedom.

With the Journey System redesign, we do this while also giving something new for veteran players to explore. It's a new way to explore the world of Conan Exiles, and we can't wait to hear what you think about it.

The new Journey System can be especially helpful for returning players, as it acts as a guide to the features now available in Conan Exiles. If you want to learn how to tame a horse – select the Outrider journey. If you want to learn sorcery – select the Sorcerer journey.

Journeys are represented by a card, within which a series of tasks are given. Most journeys have a prerequisite of some sort to begin it, after which you can select it and begin to progress through the tasks. Don't forget that you can switch between the journeys at any time, to focus on learning what you want.

A NEW BATTLE PASS AND BAZAAR ITEMS

With each new Chapter, we're always excited to introduce new cosmetics that tie into the free content in some way.

In Chapter 3, we continue to expand the choices for architectural styles with the expanded Turanian building set. We're particularly excited about the new secret passages that allow for creative ways to construct hidden nooks and chambers in your buildings.

Additionally, the Chapter 3 Battle Pass and Bazaar Items will add Blood Crystal Weapons, new looks for Golems, the Turanian Mercenary Camel Pet, and much more.

A NEW AGE

It's too early to talk about any specifics, but a new Age will come to Conan Exiles, and we can't wait to talk more about it when we can.

As we reach this huge milestone, we want to thank you all for your support and ever-useful feedback as we continue expanding and improving the game.