Hits: 501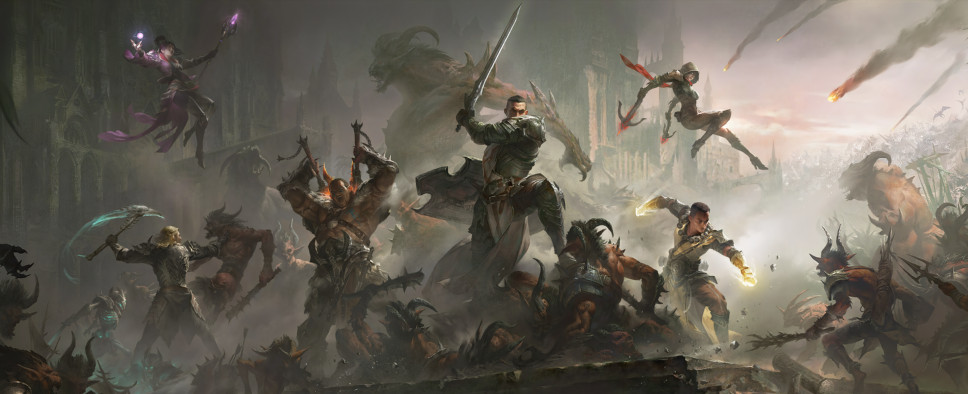 Blizzard Entertainment brings us a sizable new content update for their mobile-focused action-RPG Diablo: Immortal. As you may have already guessed, this update's main attraction is a new fishing system. This fairly self-explanatory activity will let you take a break from all the demon slaying, and earn various in-game items and new aesthetics for your fishing rod in the process.
But beyond just that, the update also introduces 36 new legendary items, redesigns the game's Rune system, adds a new Normal Gem attribute, and more. And on top of that, we also get a new Activity Scheduler tool, the Hungering Moon in-game event, and some assorted bug fixes.
Here's more on the main new feature and you take it from there:
NEW ACTIVITY: FISHING

Cast aside your weapon, weary adventurer, you've sent enough demons home to wriggle in the Hells today. A tranquil new pastime is available for you—it's time to go Fishing!

Starting at Level 43, you can travel to the noxious marshes of Bilefen to begin The Greatest Pastime quest. This quest will start you on your path to becoming the best angler Sanctuary has seen, and most importantly, provide you with a fishing rod.

Pick Your Spot, Cast a Line

Once you've completed the introductory quest, you can oh-fish-ially begin your pursuit of Sanctuary's underwater dwellers. There are three zones where you can Fish (Ashwold Cemetary, Bilefen, and the Frozen Tundra), and are notated by a fish icon on the zone map. Fishing areas are Safe zones, and you cannot be attacked by monsters while inside of them. You can only fish within a designated Fishing spot.

Before you attempt to catch any fish, you'll want to visit a Fisher, who will also be within the Safe zone, to purchase some bait. Each attempt at Fishing will consume one piece of bait. Unlimited bait can be purchased from the Fisher, and you can hold 99 pieces in your inventory at a time, so budget your bait wisely.

Once you have your rod, some bait, and a favorite watering hole in mind, it's time to wrangle up some fish. By tapping or clicking on the Rod icon next to your Skill buttons, you'll choose specifically where within the Fishing spot to cast your line. After releasing the button, a timer will appear at the top of your screen, displaying white, blue, and gold colored fish icons.

As your bobber rests among the water, fish will nibble at it periodically and you'll notice the timer will slowly begin to fill up, passing by each of the three aforementioned fish icons as it does. When you decide to reel in a catch is completely up to you, but the longer you allow your bobber to sit in the water, the higher probability you have of catching a rarer species of fish. Be sure not to deliberate over when to reel in for too long...if the timer fills up, the fish will grow restless and disappear. All caught fish will go directly into your inventory.

Developer's Note: If you cast your fishing rod, then close the Diablo Immortal app and open it back up again, your Fishing session will conclude, and you must cast your rod again. A brief network disconnection will not conclude your Fishing session.

Reel and Deal

After you've reeled in a handful of fish, head back over to the nearest Fisher to exchange your hard-caught fish for rewards. There are five categories of fish: Common, Uncommon, Rare, Legendary, and Mythic, each denoted by a different coloring of the fish within your inventory. The rarer the fish, the greater the rewards you can exchange your catch for, such as items of random rarity and new aesthetics for your fishing rod.

Fill Out the Angler's Log

There are 40 unique species of fish populating the waterways of Sanctuary. Each species has a preferred habitat and can only be caught there. Make sure to visit all the Fishing spots to see which bounties you can wrestle up from the water.

Within the Bestiary Angler's Log section is an entry for each fish species which lists their preferred habitat, along with the number you've caught, the highest weight caught by you, and the highest weight caught on your server. There's also Angler's Log rewards for dedicated adventures to collect by catching amounts of unique fish species.

Fishing presents a new way to play Diablo Immortal and experience Sanctuary. Where might your pursuit take you?

Developer's Note: Because Diablo Immortal is an MMORPG, we have a unique opportunity to explore the world of Sanctuary through a new lens. Fishing is our first step towards adding immersive world-based experiences that bring combat-less gameplay with social touches. Our goal was to provide a relaxing activity for Players who have achieved their personal character power goals for the day but aren't ready to log off—you still want to be part of the world of Sanctuary. There's a light-touch skill component to catching fish, and you can earn bragging rights for reeling in the biggest fish on Sanctuary.