Hits: 964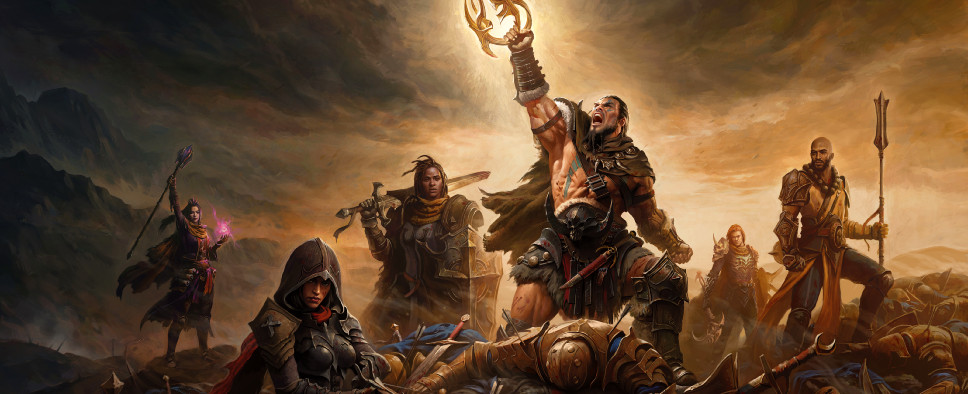 Blizard Entertainment brings us a fresh content update for their mobile-focused action-RPG Diablo: Immortal. The update introduces a new Battle Pass season, merges some servers, kicks off a number of in-game events, and features a decent number of bug fixes.
Here are some highlights:
Praise the Light! You've returned unscathed, adventurer.

Since we last gathered for a Diablo Immortal Content Update, many celebrated saviors of Sanctuary have merged servers with new players, combatted the spread of darkness, and crafted powerful Set items with Charsi's assistance.

Now, we're proud to introduce a second wave of Server Merges, new Battle Pass ranks for you to climb, and so much more. Before we dive into the flames, there will be a temporary change to our update cadence. Our second Major Update is coming soon, and to prepare for this milestone in December, we will not release a content update in two weeks as we traditionally have. Once the Major Update is released, we will return to our usual bi-weekly Content Update schedule.

As with previous Content Updates, there will be server maintenance starting on November 22, from 4:00–6:00 p.m. PST for Oceania, China, East Asia, Southeast Asia, and Europe Servers, and on November 23, from 12:00–2:00 a.m. PST for servers in the Americas. After the maintenance has concluded, all items mentioned below will be live—specific dates for any content going live afterward are provided below.

SERVER MERGE: WAVE TWO

Following Diablo Immortal's scheduled maintenance on November 23 at 3:00 a.m. server time, we will be merging the populations of many servers. This change is being made so players will have an easier time finding other players to party up with regardless of the server they play on. If you don't see your server listed, do not worry. We will continue to monitor player populations on all servers and merge additional servers as needed. Once we have decided on when additional Server Merges will occur, we will update players. Here's a complete list of all servers that will merge in wave two[...]

SEASON SEVEN BATTLE PASS: ANCIENT GUARDIANS

The last living remnants of a bygone era, temple guardians are monolithic beings forged from steel and stone. Unlike the divided natures of the Nephalem who crafted these stalwart constructs, they are incorruptible. Today, these silent defenders dutifully patrol the grounds of ever-decaying dwellings, protecting their secrets from trespassers.

A new Battle Pass devoted to transforming you into a powerful construct comes to Diablo Immortal, and with it, Season Seven begins on November 24, at 3:00 a.m. server time. The Ancient Guardians Battle Pass hosts 40 ranks worth of challenges and rewards, such as Legendary Gems, Crests, Hilts, and more.

For adventurers seeking additional treasures from their Battle Pass ranks, we have two paid versions they can upgrade their Battle Pass to for the full duration of the season: the Empowered Battle Pass, and Collector's Empowered Battle Pass.

The Empowered Battle Pass includes all rank rewards from the free standard Battle Pass but also unlocks an Empowered track that provides additional rewards at each rank. Plus, you'll receive the Ancient Guardians Weapon cosmetic, unlocked at rank one, and the enchanted Ancient Guardians Armor cosmetic, unlocked at rank 40.

The Collector's Empowered Battle Pass gives you access to all rank rewards and cosmetics from the Empowered Battle Pass plus, the Ancient Guardians Avatar Frame, Portal cosmetic, and a ten-rank boost, all provided immediately after upgrading.

The Season Seven Battle Pass runs until December 22, at 2:59 a.m. server time—begin slaying demons and climbing your way through the ranks today!

HUNGERING MOON: BACK FOR SECONDS

Feeling underfed, the moon has doubled its demands, providing you with two upcoming opportunities to sate its seemingly endless appetite for blood!

The moonlit path you'll take to heed your lunar overlord's howl for sustenance is ready to be travelled. Players can complete up to three tasks a day starting November 24, 3:00 a.m.–November 27, 3:00 a.m. server time and again from December 1, 3:00 a.m.–December 4, 3:00 a.m. server time. Through completing tasks, you'll gain Astrolabe Power—the power can be used to draw one of two types of blessings with unique benefits from the Astrolabe.

Drawing a Blessing of Magic will give you a bonus to Magic Find, handy for increasing your chances of receiving Rare, Magic, or Legendary items from monsters as a drop. Drawing a Blessing of Might invites you to complete any dungeon in exchange for Moonslivers, and if you complete the dungeon with a party, twice the amount of Moonslivers shall be bestowed upon you. The moon is a generous entity, so you may have one of each Blessing active at a time.

Once you've racked up a handful of Moonslivers by purging demonic hordes from dungeons, visit the Hermit's Collection located within the Hungering Moon event page to trade your Moonslivers for lunar-laced rewards of your choice. Be sure to collect 12 blessings in total to earn The Moon's Regard—a bounty of 120 bonus Moonslivers meant for the most exemplary devotees.

Can you satisfy the moon's hunger before the long night wanes?

THE VOIDWOUND CAGE WILDERNESS EXPLORATION TASK

Look, adventurer!

Meteoric chunks of crimson slag have mysteriously fallen into Sanctuary's wilderness. They're etched with ancient runic writings that hint at something evil stirring in its slumber.

To begin this wilderness exploration task, locate one of the slag crash sites, find the pieces, and perhaps you'll acquire once-forbidden knowledge.

EXALTED NIGHT LIMITED-TIME EVENT

Darkness clings to the fallen slag fiercely and a dyed moon paints the night's sky in a threatening aura—a new evil stirs, but where will your investigation of it lead?

Logging in on December 8 and December 10 will unlock exploratory tasks that if completed, will net you rewards to aid in your upcoming voyage to the setting of our next Major Update. Then on December 14, you can continue to combat evil blade-first by completing additional tasks in exchange for helpful rewards.

The road ahead will be treacherous. We hope you're ready.

SHIELDS OF THE HEARTH LIMITED-TIME EVENT

Crashing into a soft bed of snow, you free your axe from a fallen Khazra and rise to your feet. Exhaling in, then out, you begin to catch your breath, but it's short lived. The frigid wind whips you around, revealing a small horde of Khazra racing in to avenge their ally. Your bloodthirsty attackers number many, but when do they not? Raising your shield, you brace yourself for the slaughter ahead.

Bitter winds carry the whispers of evil to every corner of the frozen land. Protect the world from its grasping fingers during the Shields of the Hearth limited-time event.

From December 7 at 3:00 a.m.–December 21 at 3:00 a.m. server time, as you complete daily Shields of the Hearth tasks, you'll receive various rewards for your heroics. Racking up enough completed tasks will also unlock milestone rewards for you—an ode to vanquishing countless horrors.