Hits: 768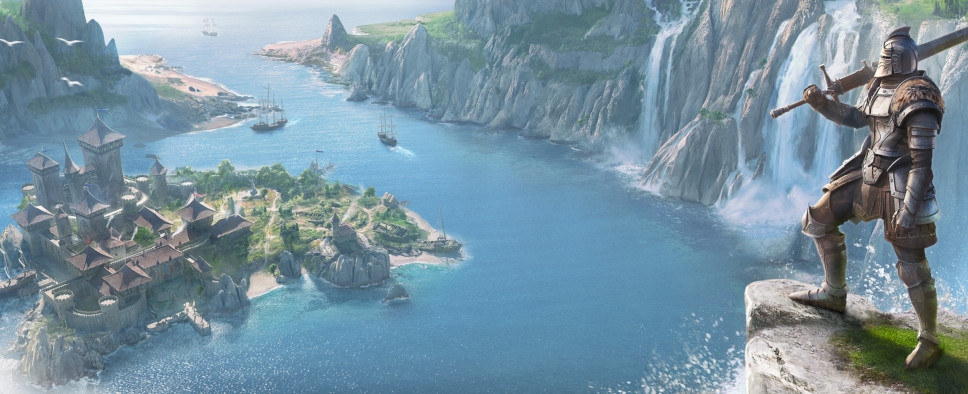 Firesong, the final chapter of this year's Legacy of the Bretons adventure, will be arriving to The Elder Scrolls: Online on November 1, 2022 for PC and November 15th for Xbox and PlayStation. And with that in mind, you might want to check out this preview article detailing this upcoming DLC and the base game update set to accompany it.
Here are the text parts:
Delve into the mysteries of the druids and get an early look at the final phase of the Legacy of the Bretons year-long adventure.

THE ELDER SCROLLS ONLINE: FIRESONG

Arriving November 1 on PC/Mac and Stadia, and November 15 for Xbox and PlayStation consoles, The Elder Scrolls Online: Firesong will continue and expand upon the ongoing Legacy of the Bretons saga and provide bonus quests concluding the year-long adventure. This story DLC allows you to explore the island of Galen, dive deep into the culture and histories of Tamriel's druids, and bring an end to a larger narrative that began back in February with the Ascending Tide dungeon DLC and continued throughout all of 2022.

Explore the Home of the Druids

In Firesong, you can explore Galen, one of the four islands of the Systres Archipelago. Abundant and fertile, this isolated isle northwest of High Isle has long served the druid circles of the Systres. Galen features overgrown forests, inhospitable jungles, snaking lava rivers, woodland spirits, and creatures unique to this part of Tamriel. It's not only the druids who call this island home, however, as House Mornard and their southern port city of Vastyr provides a lone bastion of civilization (at least as far the Bretons of High Isle see it) among the untamed wilds.

While you explore and dive deep into lore of the druids and Galen, you'll encounter no shortage of challenges, including new world bosses, delves, volcanic vents, and standalone quests, too. A whole new island of adventure awaits!

A War Among Circles

Despite its shared legacy as a home to all druids, Galen's people find themselves mired in conflict. The Firesong Circle (first encountered within the Lost Depths DLC) have attacked their fellow Stonelore and Eldertide druids, while House Mornard simultaneously suffers relentless raids from Sea Elf pirates. In the face of these two growing threats, you must defend the people of Galen, investigate the motives behind these attacks, and put a stop to them before their chaos can spread to the rest of the Systres.

Save the Systres (and Tamriel)

While Firesong features a standalone story, should you complete the main questlines for both this DLC and the High Isle Chapter, you'll unlock additional bonus quests that bring the Legacy of the Bretons year-long saga to its conclusion. Throughout your journeys in Galen, you will piece together the events of all of 2022's DLC and Chapter content to finally uncover and confront the Ascendant Lord himself. Do not fear, for you'll be joined by familiar and new allies in this final adventure that will take you deep into the very heart of the volcanic isle of Y'ffelon!

NEW PATRON DECK

Also arriving as part of the Firesong DLC is the newest Tales of Tribute patron—the Druid King! This all-new patron rewards you for achieving hefty combos with their deck, and the order by which you play your cards is vital to ensure you get the best possible result.

You'll unlock fragments of the Druid King Patron deck by completing a wide range of activities within Galen, but note that to the unlock the ability to play Tales of Tribute (and your new patron) you'll need access to the High Isle Chapter, too.

UPDATE 36

Releasing alongside Firesong, the Update 36 base-game patch will bring balance changes, bug fixes, and features completely free for all of ESO's players! These additions include a tool that allows you to place target markers on enemies, a text-to-speech accessibility option, the ability to hide class pets in towns (no more bears crowding crafting stations!), and a number of changes to make it easier to share and visit homes.

These Housing improvements include the ability to create chat links to your homes, improved visibility in whose house you're visiting as well as how many people are present in a home, the ability to see the list of furnishings in a home that you are visiting, and improved placement alignment for hundreds of furnishings that commonly hang on walls—phew!

COMING TO THE PTS!

If you'd like to experience Firesong and Update 36's new content and improvements early, you can help us improve the release AND get a hands-on look at everything by logging into the Public Test Server starting Monday, September 19! To play on the PTS, enable the playtesting build from the Settings menu within the PC/Mac ESO launcher by toggling the "Show Public Test Environment" option. Then, you will be able to download and access the test environment once it is live. Be sure to leave feedback and report any bugs you come across by typing "/feedback" or "/bug" in chat.

A LEGACY CONCLUDES

An untamed new island to explore, dangerous new foes and challenges to confront, a new Patron deck to master and much more is coming with The Elder Scrolls Online: Firesong and Update 36. We've only just begun to tease what's in store for the Systres Archipelago and the Legacy of the Breton's final adventure for 2022, so keep an eye on elderscrollsonline.com for more between now and Firesong's launch. What are you most looking forward to in this new DLC and Update? Let us know via Twitter, Instagram, and Facebook!

The Elder Scrolls Online: Firesong and Update 36 arrives November 1 on PC/Mac and Stadia, and November 15 for Xbox and PlayStation consoles.