Hits: 500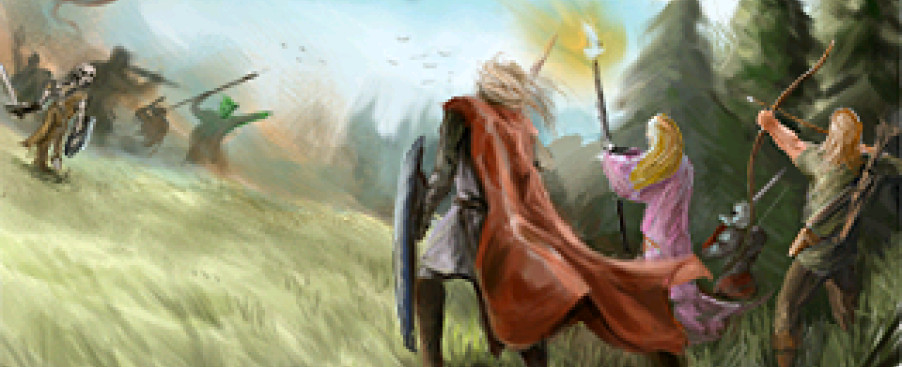 While there's still no convenient way to purchase Heroic Fantasy Games' Knights of the Chalice II, those of you who already own the game thanks to its Kickstarter campaign, can now enjoy a new patch and the first version of the official Guidebook. Beyond that, come December 1, 2020, we'll be able to buy the first game in the series on GOG.
The link above has plenty of additional details, and here's the latest patch notes and some future plans:
List of improvements in KotC 2 version 1.08

You can now use the 'Forge Weapon' dialogue box to craft arrows, crossbow bolts, sling bullets, sleep arrows and slaying arrows.
Created the new feats Heroic Concentration and Heroic Initiative.
Fixed the Wizard feats Spell Focus and Greater Spell Focus.
Fixed a bug that prevented weapon and armour enchanting in KotC 2 version 1.06 and 1.07.
Learning a spell contained in a bag will no longer crash the game.
Creatures who selected 'Ready versus Spell' and then received a condition like Stunned, Dazed or Quicksand will no longer be able to take their ready action.
Fixed the Mage Knight feat Fast Enhance Ability.
Fixed a crash that occurred on level up when you had only a few spells left to pick.
Effect icons will be displayed immediately after loading a game (if the option to display effect icons out of combat is selected).
In the macOS version, fixed the 'Add Sound Source' sub-menu in the editor.
Fixed a few issues with enchanting / forging / recharging.
Fixed the display of energy resistances in the inventory screen.
Fixed a bug where enemy psionics users would manifest 'Purification' when they don't need it.
The Healing Domain and the feat Healing Mastery now confer the Healing skill to characters.
Fixed a bug with enemies not triggering AOOs while moving near the party members.

Next Steps for KotC 1 and KotC 2

Will do a mass email & some marketing to announce KotC 1 on GOG and the version 1.08 + guidebook.
Once KotC 1 is on GOG, send out GOG keys of KotC 1. Work with GOG on the KotC 2 store page.
Improve the Barbarian. Add local-map screen (expanded minimap). Allow enchanting quest items.
Add feat-selection recommendations. Add the new feats / items / spells / features as promised.
Add guidebook module-creation info. Create tutorial module. Add content in village map. Fix any bugs.
Read & reply on HeroicFantasyGames.com forums, Discord server, Youtube, Instagram, Steam and KS.
Rework the character-creation screen to allow the player to customise his character sprites.
Add names to the KotC 2 Credits Screen as appropriate, and assign forum labels.
Continue working on the Steam page for KotC 2 and start working on the Steam version of KotC 2.