Hits: 415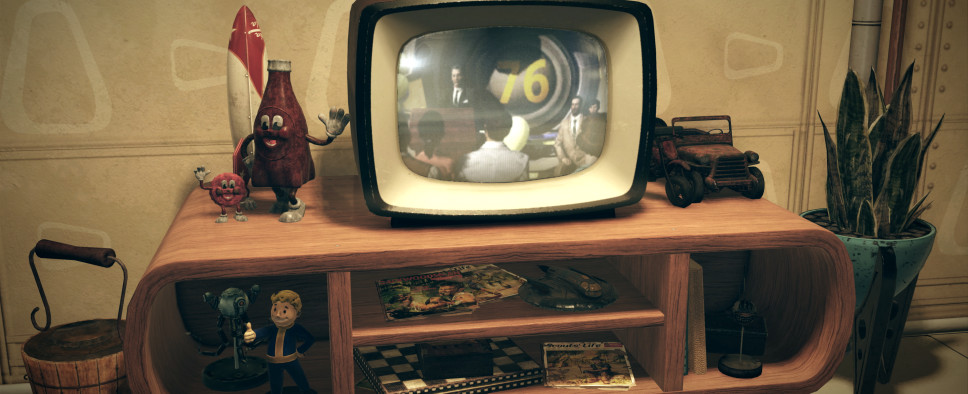 If you'd like to check out what Bethesda's multiplayer survival RPG Fallout 76 is all about, now that it's had some time to mature, you can participate in a week-long free play event from October 20 through October 26. This event will be accompanied by some in-game sales and bonuses, as well as a limited preview of the premium "Fallout 1st" subscription.
Here's how it will work:
In Fallout, October 23 marks the day the bombs fell, the event that started it all.

And it wouldn't be Fallout if we didn't throw a party to celebrate the day the world ended! So in honor of this momentous occasion, we've got a week of excitement for you to take part in, including a Free Play Week, tons of sales, in-game events, and even a limited preview of Fallout 1st! Get all the details below.

PLAY FOR FREE!

If you haven't had the chance to jump into Fallout 76 yet, now is the best time! From now through October 26, you'll be able to experience the entire game for free. This includes the base game experience, plus Wastelanders and Nuclear Winter.

As you play through Fallout 76, you'll also be able to take advantage of all of the new features introduced in our One Wasteland Update, including enemy level rebalancing, which will let you play with anyone, anywhere in the wasteland. There's also a brand-new Daily Ops system, which rewards you just for playing and completing challenges. Learn more about everything the One Wasteland Update has to offer here.

And, if you decide to get Fallout 76 when the Free Play Week is over, not only will all your progress carry over, but the game and all available content bundles will be on sale! Note that Xbox players will need Xbox Gold to play during the free trial. We'll go into detail on all the sales below.

IN-GAME EVENTS

It wouldn't be a true celebration without in-game events, and there will be three in-game events running from October 22 - 26. Get Double S.C.O.R.E. and Double XP, and get 25% off Legendary weapons and armor from Purveyor Murmrgh at the Rusty Pick.

LIMITED FALLOUT 1ST PREVIEW

Finally, get a sample of a Fallout 1st membership with the free Fallout 1st Preview. In order to claim it, all you have to do is log in between October 20 and October 26, find the free Fallout 1st Limited Preview "item" in the Atomic Shop, and you'll have access to some of the features offered with the membership.

This trial will allow you to use the Scrapbox (which will need to be claimed separately through the Fallout 1st section of the Atomic Shop in order to build it in your C.A.M.P.) and Survival Tent. Just like for full Fallout 1st members, the Scrapbox will give you unlimited storage for your crafting components, and the Survival Tent operates as a placeable fast travel point with a Stash, Sleeping Bag, Scrapbox, Instrument and Cooking Station. (The Survival Tent will be located in your Favorites wheel after you activate your preview.)

You will have access to both of these features until the preview ends on October 26. Once the preview ends, anything in your Scrapbox will persist (you won't lose any of those precious crafting materials!), but you won't be able to add anything new.

If you pick up the Fallout 1st Limited Preview from the Atomic Shop, you'll also get a couple of other goodies that Fallout 1st members have access to. This month's free in-game items are the Mechanic's Wallpaper and Mechanic's Floor and Foundation. Like any scrap you place in the Scrapbox, these items will remain yours after the preview ends.

GET DISCOUNTS ON FALLOUT 76 & ATOMS

There are sales for everyone during the Bombs Drop Day celebrations, whether you already own the game or haven't picked it up yet! Get Fallout 76 at a discounted price from now through October 27. Here's a full breakdown of the discounts:

Fallout 76 – 60% off base price
Fallout 76 Wastelanders Deluxe Edition – 50% off base price
Fallout 76 Raiders and Settlers Content Bundle– 40% off base price (discount excluding PlayStation Store)
Fallout 76 Raiders Content Bundle – 40% off base price (discount excluding PlayStation Store)
Fallout 76 Settlers Content Bundle – 40% off base price (discount excluding PlayStation Store)

From now through October 26, we'll also be hosting the first-ever sale on Atom Packs, ranging from 20-35% off!

500 Atoms – 20% off base price
1000 Atoms (+100 bonus Atoms) – 25% off base price
2000 Atoms (+400 bonus Atoms) – 30% off base price
4000 Atoms (+1000 bonus Atoms) – 35% off base price

*Discounts on selected products for a limited time only. Retailer offers may vary. T&Cs apply.

FALLOUT 4 AND FALLOUT SHELTER SALES

Fallout 76 isn't the only Fallout game celebrating. Fallout 4 and the free-to-play Fallout Shelter are also joining in on the action with sales of their own.

Here are all the Fallout 4 sales:

Fallout 4 GOTY – 70% off base price
Fallout 4 – 70% off base price
All Individual Fallout 4 DLCs – 60% off base price (discount excluding PlayStation Store)
Fallout 4 Season Pass – 60% off

For Fallout Shelter fans, now is your chance to get steep discounts on Bundles. From now through October 26 you'll get 50% off any Bundle purchases (not available via the PlayStation Store). If you're playing on mobile, you'll also have a bonus sale on October 23 where all Lunchbox purchases will be 90% off, so be sure to take advantage and stock up on Lunchboxes, Mr. Handys, Pets and Nuka Cola Quantums!