Hits: 315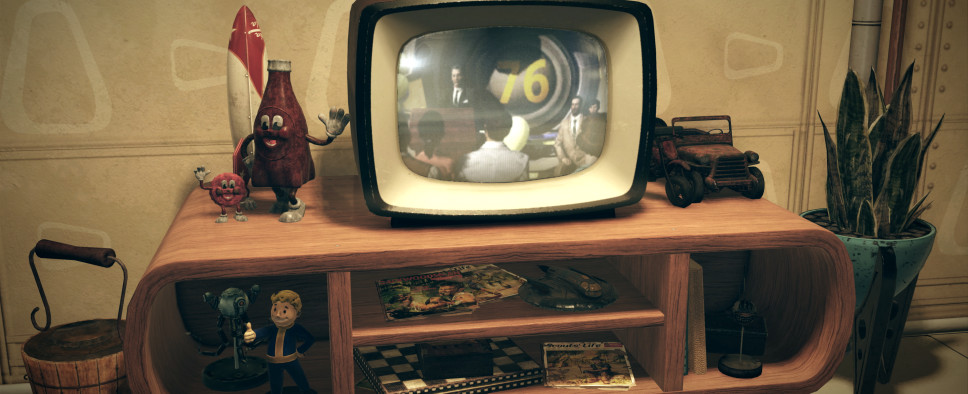 Earlier this month, Bethesda revealed the release date for Fallout 76's upcoming Wastelanders expansion. The game's latest development update reflects that by sharing a quick Wastelanders-focused Q&A. It then continues by outlining this month's Fallout 76 events. Check it out:
In this week's Inside the Vault, we've rounded up details on several of this month's announcement in case you missed anything, including the launch details and date for Wastelanders, a second helping of Twitch Prime Loot, and February's Around Appalachia theme. We've also got a new Purveyor Mystery Pick event this month, which kicks off next week.

WASTELANDERS RELEASE DATE AND OFFICIAL TRAILER UNVEILED!

In case you missed it earlier this week, we released the first trailer for our upcoming Wastelanders update and revealed that people are officially returning to Appalachia on April 7! We also announced that Fallout 76 and Wastelanders will arrive on Steam. Since then, we've seen a few questions from the community about how the launch on Steam will work, and we've provided a few answers for some of the most common questions below.

Q: Will my current characters and progress carry over if I purchase Fallout 76 on Steam?
Yes. We know you've put a lot of time and effort into completing quests, finding the perfect gear, and making your character uniquely you. Your characters, progress, and items will all be available to you whether you play Fallout 76 through the Bethesda.net launcher or Steam.

Q: Will my Atoms or Fallout 1st membership carry over to Fallout 76 on Steam?
No. Your Atom balance and Fallout 1st membership on one platform will not transfer when you play on the other. However, any items you unlock in the Atomic Shop will be available to you through Steam or the Bethesda.net launcher.

Q: Can players who log into the Bethesda.net and Steam versions of Fallout 76 play together?
Yes. As long as you're playing Fallout 76 on PC, you will be able to play with other PC players in all game modes whether they choose to play through Steam or Bethesda.net.

Q: Do I need a Bethesda.net account to play Fallout 76 on Steam?
Yes. When you launch the game through Steam for the first time, you will be prompted to log in using your Bethesda.net account details. You will then log into that account automatically the next time you launch the game. If you already play Fallout 76 on Bethesda.net, make sure to sign in using that account to access your current characters and progress.

Q: Will I get access to Fallout 76 on Steam if I already own it on Bethesda.net?
No. While your progress and Atomic Shop purchases will carry over across both Bethesda.net and Steam, you must own Fallout 76 on Steam in order to play using that platform.

Be sure to check out our Wastelanders Launch Date and Details article on Fallout.com to watch the official trailer and catch even more information about Wastelanders launch.

PURVEYOR MYSTERY PICK NEXT WEEK

Need some unique gifts for that special someone this Valentine's weekend? Get a sweet deal on some legendary items for your loved ones (or for yourself) with a new Purveyor Mystery Pick event, which kicks off next Thursday!

Put your fate into Purveyor Murmrgh's hands by choosing her Mystery Pick option, which will grant you a completely random 3-star legendary item in exchange for 60 Legendary Scrips. We hope you're able to save up a few Scrips before next week's event, and don't forget that you can always find the Purveyor at Berkeley Springs Station.

Mystery Pick Dates and Times:

Start: 12:00 p.m. ET on February 13
End: 12:00 p.m. ET on February 17

NEW ROUND OF TWITCH PRIME LOOT

We've partnered up with Twitch once again to bring you a second round of in-game cosmetic rewards that you can claim just for having Twitch Prime. The Twitch Prime Winter Bundle went live earlier this week, and it includes several Nuka-Cherry Armor Paints, a Branding Iron Fire Axe Skin, and a new Photomode Pose. These rewards will be up for grabs for the next two months, until April 9.

Get the full details by reading our recent Twitch Prime Winter Bundle article, which includes instructions to link your Twitch and Bethesda.net accounts, and previews of the new goodies.

SHARE THE LOVE WITH AROUND APPALACHIA

Romance is in the air, and budding Wasteland photographers can attract new eyes to their creations by submitting photos for a chance to be featured in the February edition of Around Appalachia.

This month's theme is—you guessed it: Valentine's Day! Strike a pose with your closest compadres, and then share your best shots with us in the Around Appalachia submission thread in the Fallout 76 forums before February 21.

Check Fallout.com again on February 28 to see if your submission was selected and to learn the theme for March.