Hits: 524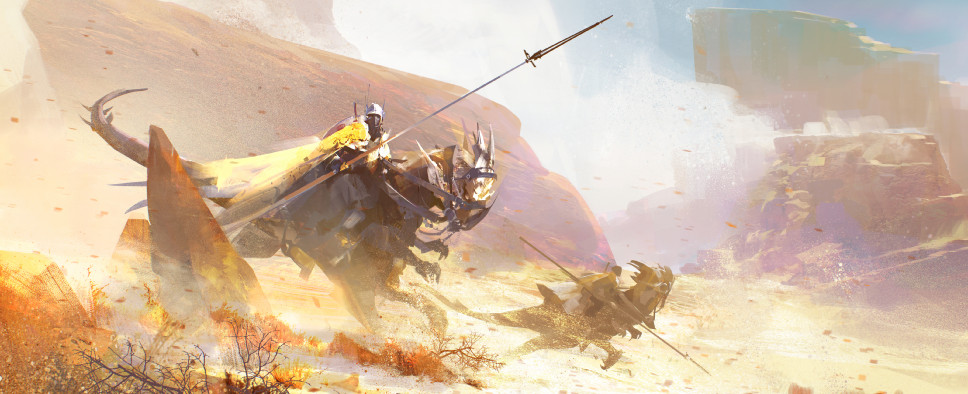 The Icebrood Saga, a new collection of episodic content for ArenaNet's MMORPG Guild Wars 2, was announced during this year's PAX West. The saga's chapters will introduce new locations, conflicts, and story content to the game, starting with "Bound by Blood," a prologue episode set to launch on September 17, 2019. The Icebrood Saga will be free for those who own Guild Wars 2's Path of Fire expansion, and as a bonus, the game's first expansion, Heart of Thorns, should now also be available for all players who own Path of Fire.
Here's a lore-packed announcement trailer:
And a press release that shares some information about the new content along with an overview of some upcoming Guild Wars 2 product partnerships:
SEATTLE – Aug. 30, 2019 – An ancient power stirring from beneath the ice of the Far Shiverpeaks is the latest threat Guild Wars 2 players will face in The Icebrood Saga, the game's newest collection of episodic content. Players can get an early taste of the new locations, conflicts, and thrilling story coming to the award-winning MMO on September 17 with the release of the prologue episode, Bound by Blood. The entire Icebrood Saga, including Bound by Blood, will be free for players who own Guild Wars 2: Path of Fire, with Episode One releasing this autumn.

In conjunction with the debut of this all-new Living World chapter, the first Guild Wars 2 expansion Heart of Thorns will be free for all players who own or purchase Guild Wars 2: Path of Fire, beginning today. Any player who previously purchased Heart of Thorns will receive an exclusive Heart of Thorns Veteran's Pack of in-game items containing a unique Mordrem glider, "Vanguard" title, and voucher for one of a possible sixteen different gem store armor skins.

The Icebrood Saga marks the beginning of a new adventure in Guild Wars 2's storyline. It is a time of tentative celebration for all the races of Tyria in the wake of the Elder Dragon Kralkatorrik's heroic defeat by the members of Dragon's Watch. But whispers from the Northern Shiverpeaks tell tales of ancient forces stirring from their slumber. While the Sons of Svanir—a renegade cult of norn who have turned away from worshipping the Spirits of the Wild—devote themselves to the elder ice dragon Jormag, stories of the dragon's strength and virtues begin to spread alongside its corrupting influence.

The Icebrood Saga will introduce a wealth of new features, including Strike Missions, which are epic 10-man boss encounters that combine the group coordination skills of raids with the large-scale conflict of a Guild Wars 2 meta event. New boss creatures will also populate the environments of Grothmar Valley and the Northern Shiverpeaks, including the ominous, newly-awakened Drakkar first seen in the original Guild Wars, while new Masteries will be available in Episode One and Episode Two that will explore the history and influence of the Spirits of the Wild, the mystic animal deities of the norn.

In addition to this new Living World chapter, NCSOFT and ArenaNet are also debuting a variety of Guild Wars 2 product partnerships, including:

A 20th anniversary art book in collaboration with Dark Horse Comics. Launching in the spring of 2020, the art book will feature an expansive collection of never-before-seen concept art, production material, and creator commentary from the Guild Wars franchise
Guild Wars 2 Funko Pop! figures featuring fan-favorite characters. Aurene, Palawa Joko, and Rytlock Brimstone will be available beginning January 2020
New Guild Wars 2-inspired apparel from Hot Topic and Insert Coin. The clothing range features new t-shirt and hoodie designs
New Guild Wars 2 mouse pads and phone cases from Razer
A music streaming partnership with global entertainment and streaming service TIDAL that makes the original musical scores of Path of Fire, Heart of Thorns, and Living World seasons two, three, and four available for listening across the TIDAL platform.