Hits: 742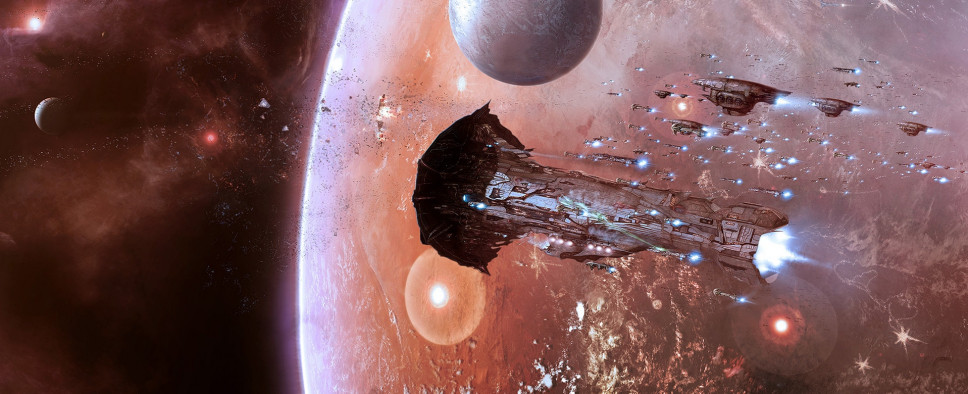 EVE Online, CCP Games' long-running sandbox MMO, launched on May 6, 2003. In order to celebrate the game's 16th anniversary, the developers are running an event where if you log into the game between May 2nd and May 20th, you'll be able to claim various gifts ranging from celebratory trinkets to unique ship skins.

On top of that, we now know that on May 28, 2019, a new expansion for the game will be going live. Entitled Invasion, this expansion will introduce a new galaxy-wide threat along with new ships, features and quality of life improvements. Here's more on that:
The festivities at EVE Russia are well underway. As part of the celebrations on this leg of the EVE Invasion World Tour, we're delighted to announce EVE's next major expansion, EVE Online: Invasion. You won't have long to wait until it arrives, as it launches later this month on May 28th!

Capsuleers across the cluster will be faced with an invasion on a scale the likes of which New Eden has never seen before, as the Triglavian threat becomes more real than ever.

With new visuals, new content and new system-wide effects, the unpredictability and danger of abyssal deadspace is set to begin spilling into known space. What will be the consequences?

In addition to an increase and ever expanding Triglavian threat, capsuleers can look forward to three all-new tech II Triglavian hulls: the Nergal class Assault Frigate, the Draugur class Command Destroyer and the Ikitursa class Heavy Assault Cruiser. These will be accompanied by new mutaplasmid groups for Damage Controls, Assault Damage Controls and both Ancillary Shield and Armor repairers, adding even more tactical options to ship fitting in EVE.

EVE Online: Invasion also brings further long-awaited updates to the war declaration system, building on changes that have been in progress since December and over the course of the last four releases, with improvements to mutual wars, as well as simplification to the cost of wars with a simple flat fee for all war declarations replacing the previous complicated formula for calculating costs.

An overhaul of The Agency is also arriving with the Invasion expansion, with a focus on making content and activities in New Eden more discoverable and accessible to both new and established pilots alike. The Agency will see the return of the agent finder, as well as a visual overhaul to make activities, resource gathering and exploration clearer and more concise.

Of course, EVE Online: Invasion will also contain a whole range of quality of life fixes and improvements too, with improvements to the station services user experience and interface, as well as balance pass for the Triglavian Damavik class frigate, and tweaks to Electronic Warfare drones.

To round off balance changes, there'll also be improvements to Tech II ammunition, allowing faction, storyline and officer weapons to utilize it.

We're super excited to watch the landscape of New Eden take another step in its sixteen-year long evolution on May 28th. We can't wait to see how all New Eden's capsuleers engage with the new content that's coming your way soon!

There'll be more information about EVE Online: Invasion in the coming weeks, with a refresh of EVE Updates coming soon, and full patch notes the week before release.

Keep your eyes on the news and dev blogs feeds if you'd like to know more!
And here are a few paragraphs on the anniversary celebrations:
It's that time of the year again, and May 6th is coming!

This year we celebrate sixteen years of content, sixteen years of spaceships and more importantly, sixteen years of incredible community and player narrative.

We're super happy to announce that from May 2nd through to May 20th, all pilots can join in the festivities and celebrate EVE Online's sixteenth birthday, regardless of their clone status!

Log in over the course of the celebration between these dates and collect your free gifts as you go. There's a total of sixteen days of gifts, celebrating more than a decade and a half of amazing player stories. You can claim all the rewards on offer, so long as you log in for at least sixteen of the days during the celebrations.

Both Alpha and Omega pilots can claim rewards daily, although the Omega rewards are a bit more valuable. If you're an Alpha pilot and you like the look of the rewards that Omegas have up for grabs, you can even upgrade after the celebrations start and you'll receive all the omega rewards you missed retroactively.

There's all manner of gifts and rewards up for grabs including celebratory trinkets, faction ammunition, exclusive XVI anniversary SKINs, apparel and even a monocle, as well as Society of Conscious Thought hulls, celebratory Permaband SKINs and clothing, along with fireworks and abyssal filaments.

We'll be rounding out the celebrations with the largest skill point gift we've ever distributed to both Alpha and Omega pilots! Over a million skillpoints are up for grabs for pilots who log in for the full sixteen days, so be sure to follow along with the celebrations and claim your rewards to be in for a bounty of training too.