Hits: 3743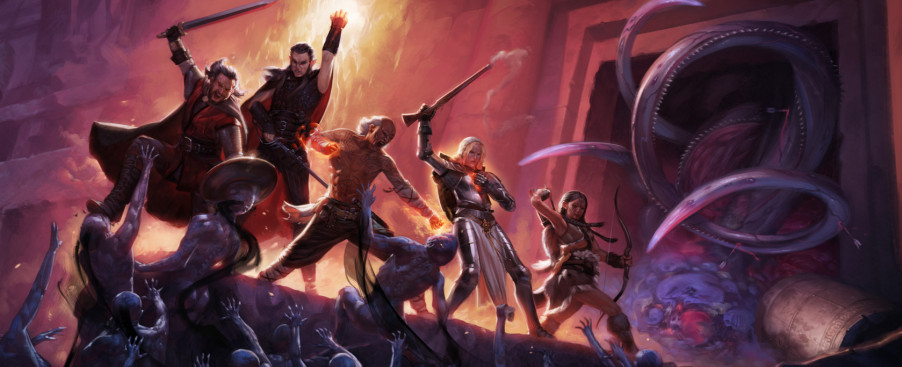 If you feel nostalgic for Interplay's Infinity Engine RPGs, or alternatively if you've enjoyed Obsidian Entertainment's Infinity Engine-inspired Pillars of Eternity series, and for whatever reason you're not currently spending your every free moment playing Pathfinder: Kingmaker (waiting for more patches, perhaps), then you should direct your attention to this "Long Read" brought to us by Shacknews.

Entitled Beneath a Starless Sky, this mega-article is essentially a book that combines a large pile of interviews and retrospectives covering the advent end evolution of Infinity Engine-style RPGs.

And if an entire Infinity Engine book is not enough for you, you can also check out this Obsidian Entertainment roundtable:
For nearly an hour and a half, we talked the ingredients that define a roleplaying game made by the studio regardless of sub-genre or theme, the status of Infinity Engine-style RPGs such as Pillars of Eternity, settings the developers would love to tackle in future projects, and perhaps most importantly, who made bets to shave heads or eat obscene amounts of fattening foods on the condition that Deadfire holds at or above a certain aggregate score on Metacritic.

Enjoy the discussion, and remember to check back on the afternoon of Friday, October 5, to read Beneath a Starless Sky and check out more exclusive video features.
And this Shacknews AMA with Obsidian's Adam Brennecke. Check out the intro video:
Here's what you can expect to find in Beneath a Starless Sky:
Infinity (Engine) and Beyond

Like Pillars of Eternity's Leviathan, Kingfisher, Panther, and Huntress, Beneath a Starless Sky is a book of stars woven into constellations, patterns in the sky of your monitor, tablet, or smartphone.

Those stars are divided two ways. The main chapters recount the history of Black Isle and Obsidian Entertainment up through and including the development of 2018's Pillars of Eternity II: Deadfire. These narrative-style chapters feature quotes from interviews conducted between February and September of 2018. The other chapters, Pause Screens, collect an assortment of narratives, oral histories, and Q-and-A interviews about the Infinity Engine games, the developers who made them, and games related to them, if distantly in some cases.

You can save Pause Screens for later if you get caught up in the history of Obsidian and Pillars of Eternity, but reading them will lend greater understanding of what made the Infinity Engine-powered games so special, and how they informed the Pillars franchise.

Beneath a Starless Sky was written based on research and interviews. Obsidian Entertainment worked with me to arrange most of these interviews over Skype and, for two days in May, on-site at Obsidian Entertainment in Southern California. Interviews with individuals who work outside Obsidian took place over email and Skype. Recreating a story from so many sources is an exercise prone to inconsistency, especially considering that many events took place decades ago. Scenes were written by drawing from information gleaned from interviews, research, and the author's best judgment. A full accounting of sources and interviews can be found in the Notes and Citations section at the end of this book.

The views expressed in Beneath a Starless Sky are those of the individuals who provided them and do not reflect the opinions of the author, Shacknews, or its parent, affiliate, or subsidiary companies.