Hits: 3196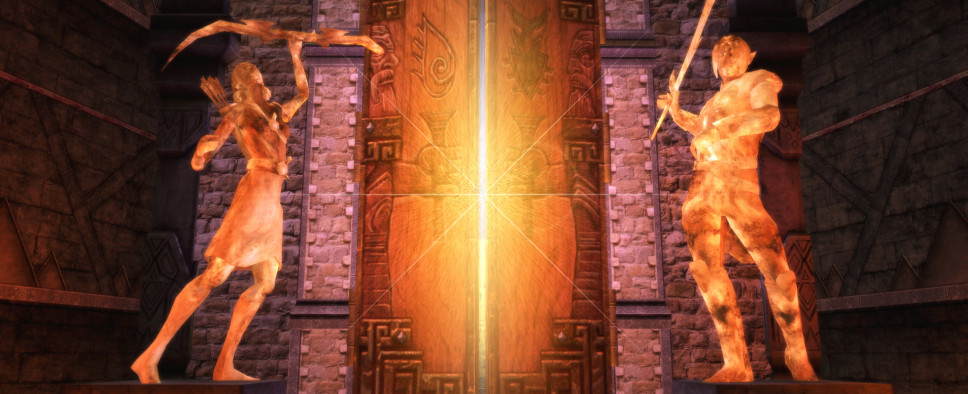 It seems that the foreboding news of Turbine becoming a free-to-play mobile game developer wasn't too much of a cause for concern and the Dungeons & Dragons Online producer's letter posted back in September was a foreshadowing of things to come, as team lead Rob Ciccolini (Severlin) has announced that he and the development teams working on Dungeons & Dragons Online and The Lord of the Rings Online have parted ways with Warner Bros. to form a new independent development studio called Standing Stone Games. This is excellent news for those of us who have grown more worried about the fate of both titles in recent months, and it's great to see that Daybreak Games will also be taking over publishing duties:
Greetings,

Today we have some momentous news! The game teams responsible for The Lord of the Rings Online (LOTRO) and Dungeons & Dragons Online (DDO) are now moving from Turbine to Standing Stone Games, a newly formed indie game studio. In addition, we've partnered with Daybreak Games to provide global publishing services. They've had a long, successful history developing and publishing MMOs, and we're happy to lean on their expertise.

With the announcement out of the way, I wanted to talk to you about what all this means.

We're embarking on an exciting adventure as Standing Stone Games, a newly-independent studio staffed by people who have been working on DDO and LOTRO for many years. The teams remain very much committed to both games and are thrilled to continue development and operations of these games as an independent studio. This is an opportunity for us to bring about our dreams while still working on two of the biggest licenses in video games. It's a huge honor, and for you this means your games will continue to grow and improve. We love to focus on games with a high level of depth and scope, and we can't wait to show you what the future brings.

Although a great many exciting things are happening on our end, you'll be able to continue playing the game(s) you enjoy with as little interruption as possible. Our development continues on track, and the plans we have already announced remain firmly in our future view. Again, although we are a new studio, we are also the same developers who have been and will continue to work on our games.

Our success has always been possible because of your support. As we move forward, this is more important than ever. The ultimate goal of our new studio is to continue to bring you amazing experiences. We are excited for the future, and we're thrilled to have you with us on this journey.

Here's to great games, epic adventures, and memorable times with friends!

~Sev

There's an FAQ available to keep us informed on how, exactly, this will all go down:
What's happening:

The Lord of the Rings Online and Dungeons & Dragons Online have been acquired by Standing Stone Games, a newly-formed independent game studio made up of the same groups that have been working on LOTRO and DDO for years. We remain committed to both games, and are thrilled to be able to take these games in exciting directions for a long time to come. Standing Stone Games will operate as an independent studio, with global publishing support from Daybreak Games.

What does this mean?

It's business as usual for both LOTRO and DDO's operations and development. Both games will continue along their respective development paths and bring you the content you enjoy.

What is happening to Turbine?

Turbine will no longer be involved in the development of LOTRO and DDO. They will continue on the development of their products.

What about my account?

Your account login information remains the same. You'll keep all purchases, including Turbine Points, VIP subscription time, Lifetime Memberships for LOTRO, and any things you've picked up through the in-game Store.

Are you planning to make any changes to the cost of VIP?

We are always looking for additional ways to offer the best value to our VIP players. The cost and value of the VIP program remains unchanged, although it's possible we may offer additional benefits or tiers of subscription in the future.

What's happening to Turbine Points?

Your point total remains intact. The name of your points will change from Turbine Points to DDO or LOTRO Points, but the value of these points will not change.

What about game cards like Turbine Point cards and subscription time cards?

You'll still be able to redeem game cards you've purchased.

What about my Lifetime Membership?

Your Lifetime Membership will continue to be honored, and no changes to it will be made.

Will this require any downtime or impact our ability to login?

We encourage players to keep an eye on our social media feeds and forums, as there may be some periods of downtime while we do technical and other work in the coming weeks. Our plan is to of course minimize the amount of downtime to the least possible.

Will the servers be changing?

We'll continue to operate out of our existing data center, and there are no plans to change servers in any way.

What does this mean for licensing of the Dungeons & Dragons and Lord of the Rings IPs?

We've updated our licensing agreements without issue and will continue that relationship.

How do we contact customer service after the transition?

support.turbine.com

Does this mean the games are shutting down?

No! On the contrary, we are extremely excited by this transition into an independent studio, and we can't wait to work on the game long into the future.

Are the web sites changing? What about Facebook, Twitter, and other social media sites?

We may do some work on DDO.com and LOTRO.com in the future, but the web sites and social media URLs will stay the same. We'll be switching out some corporate logos and such in the coming weeks, of course, but if you've subscribed to us on YouTube or liked us on Facebook, for example, there's nothing you'll need to do.

How does this impact Daybreak Games?

Daybreak Game Company's role as publisher for LOTRO and DDO should have no impact on any existing Daybreak games.

As a fan of both games since they launched, this is great news. Here's to many more years of adventuring in Middle-earth, Eberron, and Forgotten Realms! And maybe Ravenloft next year...