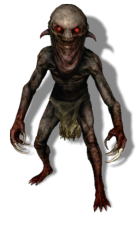 Summary
Imagine a drowner that burrows tunnels, climbs trees, is more vicious than usual, and when ambushing its prey, it does so with many of its kin. Now you have a good idea of what a nekker is. These primitive creatures are the bane of the wilderness - the inhabitants of forest villages fear them, and animals give their nests a wide berth. Nekkers are social creatures, gathering in something akin to tribes, for they can only repel the attacks of stronger assailants en masse.
Knowledge
Ability Levels:
3
When nekkers venture out as a war or hunting party, they are led by chieftains. These are larger and mark their faces with red clay. Chieftains give orders, turning a wild band into an organized unit, thus they should be eliminated first.
The nekkers' basic tactic is to strike en masse. They burrow from beneath the ground and swarm upon their prey. Though primitive, the tactic is surprisingly effective. One must be ready to repel many foes at once - the fast style is best suited to this. As with other agile creatures, running from nekkers is not the best idea, for the monsters will catch up to their prey and swiftly kill it with multiple hits of their claws.
Witchers can use their full range of skills and techniques when fighting nekkers. Signs, bombs, poisons and oils that augment bleeding are all extremely effective against the beasts. Nekker nests are best destroyed with Grapeshot bombs.