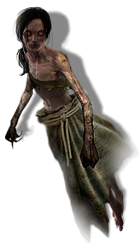 Summary
The bruxa is a higher vampire, that is a post-Conjunction creature, an intruder in our world. She appears as a beautiful woman, but when she is hungry or attacking, she is terrifying. As a vampire, the bruxa drinks blood. She often finds a victim to become her lover and a constant supply of sustenance at the same time.
Knowledge
Ability Levels:
3
The bruxa finds the smell of garlic to be socially inconvenient at most. And she considers holy symbols to be interesting examples of handicraft. She endures the light of the sun well, but she prefers the darkness of the night. As you see, you can stuff most stereotypical preconceptions about vampires up your arse when it comes to a bruxa. So what works? The blade of the silver sword, as usual. Apart from silver, she can be wounded with fire and a stake, provided that the latter is as long as a wagon's drawbar.
Less powerful bruxae often hunt in packs, making it easier to corner prey. If threatened, they attack with their talons and rip the victim apart, pausing only to savor the blood of their dying foe. The greatest threat to a witcher is the bruxa's voice. The creature can screech with such force that the Shockwave will knock even a huge man down, making him easy prey for the vampiress. Blindness is as great a threat as this ghastly scream. Bruxae deprive their enemies of sight in order to play cat and mouse with them. Until sight returns, one should defend against their attacks in any way possible, for example by using the Quen Sign.
The bruxae have masterful control over their blood circulation, rendering poisons and oils that increase bleeding ineffective against them. They are good at defending themselves against witchers1 tricks, but they are vulnerable to fire and can be knocked down and finished off as they try to get up.