Note: This information was taken from TSR's original AD&D adventure, the Temple of Elemental Evil.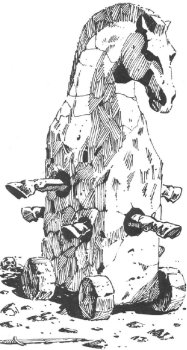 Juggernaut
JUGGERNAUT
FREQUENCY: Rare
NO. APPEARING: 1
ARMOR CLASS: 2
MOVE: 1" to 12" (see below)
HIT DICE: 10 to 13
% IN LAIR: 0%
TREASURE TYPE: See below
NO. OF ATTACKS: Up to 6
DAMAGE PER ATTACK: 2-12 each
SPECIAL ATTACKS: Crush (D 10-100)
SPECIAL DEFENSES: Immune to all fire
MAGIC RESISTANCE: Standard
INTELLIGENCE: Animal to Average
ALIGNMENT: N(E)
SIZE: L (8-20' long)
PSIONIC ABILITY: Nil
Attack/Defense Modes: Nil/Nil
A juggernaut is a creature related to the mimic, appearing as a large stone object of some sort. The creature's form always has wheels, runners, or some other source of mobility.
Just as the mimic can project a pseudopod, so can its cousin produce several growths—including slim toothy heads, pincers, rams, and so forth. It can make up to six attacks per round in this way, depending on the limits of its shape.
The juggernaut can also change form to some extent, but more slowly than the mimic. Once pseudopods are cut off or reabsorbed into the body mass, up to a month may be needed to re-grow them, again depending on their forms. Heads on pseudopods may permit the juggernaut to make noises of many sorts, and some few can even speak (though poorly).
A juggernaut with wheels or rollers cannot turn sharply or reverse directions unless it first comes to a complete halt. For every ten feet it travels it can turn about three feet; it must travel 30 feet to make a 90 degree turn. It is also slow to start. In the first round of animation it can move but ten feet per round, gaining 1" additional movement each round thereafter until its maximum 12 " rate is achieved. (For example, in the ninth round of animation it moves at 9" rate.)
This ungainly movement is, of course, balanced by an additional attack form. Such a juggernaut may attack by simply rolling over a victim, crushing everything in its path. A normal "to hit" roll is made (situation permitting). If the juggernaut-hits, all the victim's items must be checked vs. crushing blow. The victim takes considerable damage, a maximum of 10-100 (10d10) points if the juggernaut is large and heavy. The victim may make a saving throw vs. death ray to take half damage, but success does not negate the crushing effect on items.