Hits: 1917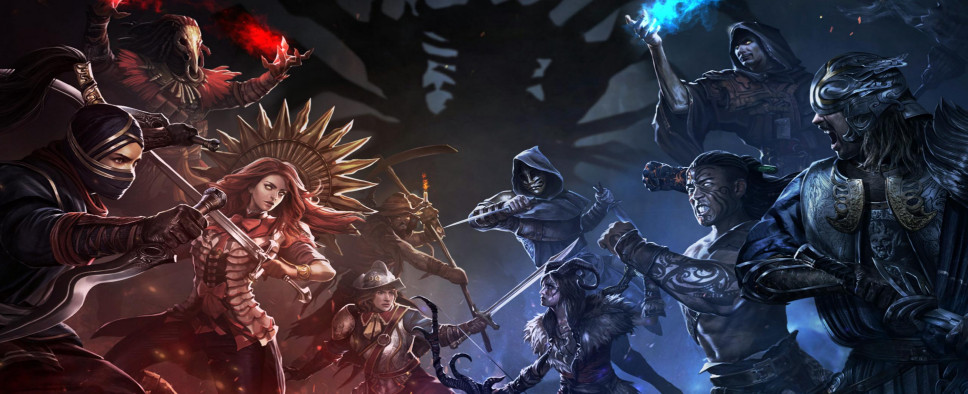 Launching on April 7, 2023, Crucible is the next challenge league expansion for Grinding Gear Games' free to play action-RPG Path of Exile. Built around a mysterious race of titans with a knack for upgrading weapons, Crucible will feature fresh challenges and rewards alongside some new Vaal skills and unique items, as well as improvements to certain Ascendancies and much more.
You can find the complete patch notes for the expansion over here and watch the expansion trailer below:
And here's the recent reveal livestream with some extra details:
And an overview of all the new stuff:
Path of Exile: Crucible

In Path of Exile: Crucible, you'll learn about the ancient titans who once shaped the primordial surface of Wraeclast. If you're powerful enough, you will earn the ability to forge their power onto your weapons.

Our April expansion introduces the Crucible challenge league, nine new Vaal Skills, Atlas Gateways, over ten new Unique Items and improvements to Breach, Abyss, Passive Tree Masteries, the Saboteur, the Pathfinder, Ruthless and much more!

Seize the Power of the Crucible

Crucible Forges are scattered throughout Wraeclast. When you find one, select one of your weapons and channel the power of the ancient titans to spawn a challenging encounter. The longer you channel for, the more the molten monsters merge together to form more fearsome foes. You're in control of the difficulty and reward of these encounters.

Forge Your Own Path

In an iconically Path of Exile way, your weapons can now be imbued with powerful Passive Skill Trees of their own. Encounters at Crucible Forges grant you experience that lets you uncover the tree on a weapon and gradually progress through its skills. You can only allocate one skill from each tier, so choose your path through each Crucible Passive Tree carefully. If you're lucky, you'll find certain skills that, when allocated, are worth valuable currency or unique items when sold to a vendor.

Stand Before the Titans

Crucible's endgame takes place in The Forge of the Titans, a dangerous area harbouring an ancient power: the ability to melt a weapon down, merging its Crucible Passive Tree with that of another weapon. This process produces unpredictable results, incorporating elements of each tree as well as random upgrades, downgrades and changes. Through careful use of the Forge, it's possible to craft some incredibly powerful skill trees on your weapons.

Journey Through Atlas Gateways

Among other endgame improvements, Path of Exile: Crucible introduces Atlas Gateways - nodes on the Atlas Passive Tree that allow instant travel between two locations. There are three pairs of gateways, each allowing travel from the left side of the tree to the right side or vice versa. Each end of the gateway consumes one Atlas Skill Point to allocate, but using them makes it possible to easily engage with all the content that you want to play, regardless of which side of the tree it's on.

Survive the Breach

We're overhauling Breach in many ways. Regular Breachstones are now much higher level, replacing Charged, Pure and Enriched Breachstones entirely. Flawless Breachstones can now be upgraded to with Blessings, or earned from an Atlas Tree passive. Breach monster pacing and density have been improved so that the pressure and rewards are consistent throughout an encounter. We have also tweaked Breach Scarabs, the Betrayal Research Safehouse, Breachstones from Kirac Missions, the Breach Harvest Crafting Option, the Fragment Stash Tab, Divination Cards, Breach Unique Items, Atlas Passives and more.

Stare Into the Abyss

Abyssal Depths now always contain an Abyssal Lich. Abysses have a chance to spawn a Stygian Spire in place of their reward chest, which drops a Stygian Vise, jewels and other items. You're now guaranteed to always get a four-hole Abyss alongside your Abyssal Depths, rather than just a single hole. We've also updated Abyss passives on the Atlas Tree, Abyssal Lich encounter balance, Abyss uniques and Abyss Scarabs.

Master an Evolved Meta

The Crucible expansion provides a lot of new ways to build characters and improve your favourite ones. We have revamped approximately half of the Masteries on the passive tree with lots of new build-improving stats to pick from. We have also bolstered the tree itself with new clusters for Link Skills, Stun Mitigation and Marks, and have added a few new Masteries.

We have also overhauled the Saboteur and Pathfinder Ascendancy Classes. In addition to Traps and Mines, the Saboteur can now specialise in Triggered Skills and Cooldown Recovery, including the ability to slow down the cooldowns of enemy skills. The Pathfinder now has the ability to turn many of its skills into Concoction-like abilities that consume its flask charges for additional effects.

Enhance Your Build With New Vaal Skills

Path of Exile: Crucible introduces nine new Vaal skills, which augment a wide variety of different builds. We've added Vaal Absolution, Vaal Arctic Armour, Vaal Lightning Arrow, Vaal Reap, Vaal Animate Weapon, Vaal Domination, Vaal Ice Shot, Vaal Rejuvenation Totem and Vaal Firestorm.

Discover New Unique Items

Path of Exile: Crucible also introduces more than ten new unique items, including three that are exclusive to the Crucible Challenge League.

Become a Champion

The Crucible Challenge League also starts with a competitive boss kill event! The first player to kill the Uber Searing Exarch and Uber Eater of Worlds in Ruthless Hardcore Solo Self-found will get to work with our design team to add a new unique item to Path of Exile. They'll also receive a transferable Ultra VIP ticket to ExileCon in July. Second and third place finishers will receive a transferable VIP ticket to ExileCon. If you'd like to enter the event, just create a character in Ruthless Hardcore Solo Self-found on launch day!

Challenge Yourself in Ruthless

Ruthless is Path of Exile's game mode designed around extreme item scarcity. It's challenging because you're constantly behind the item power curve. We have made small improvements to Ruthless in Path of Exile: Crucible. Firstly, Eternal Orbs are back in Ruthless! These are extremely powerful currency items that allow you to imprint an item and restore it if you're unhappy with the result of crafting. We disabled these game-wide seven years ago because they were far too powerful when combined with all of the crafting options Path of Exile offered at the time. Ruthless does not have the base game's crafting featureset, and so we are enabling Eternal Orbs to drop in Ruthless, albeit extremely rarely.

Ruthless now has its own set of challenges to complete. Like the ones in early Path of Exile, there are a total of eight, and they're very difficult. We'll post more information in the news about these challenges before release.

Get Ready for ExileCon

Our next livestream will take place from the ExileCon 2023 main stage! Held from July 28-29 (PDT) in Auckland, New Zealand, the event will be fully streamed online for you to watch from home. We'll be unveiling masses of information about Path of Exile 2 and Path of Exile Mobile before streaming the entire Path of Exile 3.22 reveal and then every developer talk, panel and event from the convention. The livestream starts at 10am New Zealand time on July 29 (3pm PDT, July 28). Don't miss it!

Show Your Support

We're launching two new sets of Supporter Packs to celebrate the release of Crucible: the Lithomancer and Enchanter packs. There are three price points available for each and they feature masses of points and several exclusive microtransactions that visually interact with gameplay in new ways.

Path of Exile: Crucible will launch on April 7th (PDT) for PC and Mac, and on April 12th for Xbox and PlayStation.