Hits: 1746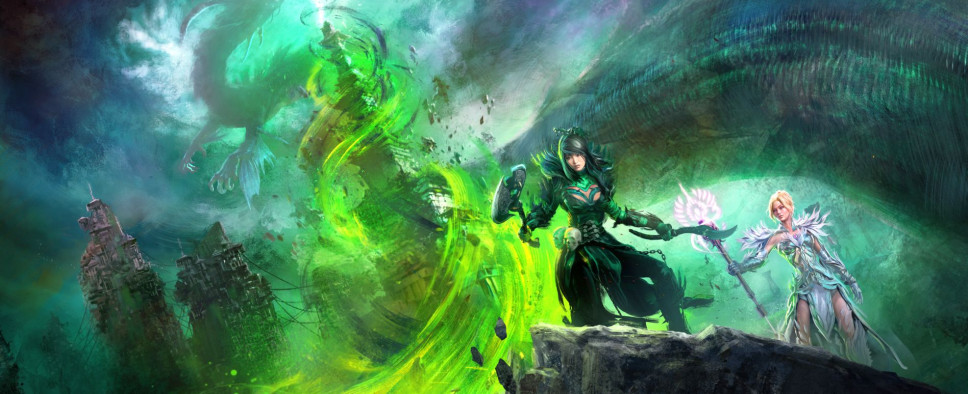 The End of Dragons expansion for ArenaNet's PvP-focused MMORPG Guild Wars 2 concluded the game's epic Elder Dragon saga about a year ago. Which now brings us to the game's latest "What Lies Beneath" chapter that will be laying the groundwork for new Guild Wars adventures, mysteries and dark secrets.
Free for everyone who owns the End of Dragons expansion, this new Living World release can be unlocked at any time and at no cost. Participating in it will eventually earn you a number of new weapons, unique armor skins, a new Jade Bot module, and more. The update also introduces a new quality of life feature that lets you reduce the intensity of certain visual effects.
Here's a quick update trailer:
And some additional details:
"What Lies Beneath" Is Live

The Elder Dragon saga concluded with Guild Wars 2: End of Dragons™, and we're ready to turn the page to the next chapter of the Guild Wars 2 story: "What Lies Beneath"! Rejoin your Friends' Detective Agency allies—Detective Rama, his hat, and Gorrik—along with Xunlai Jade engineer Yao to investigate the dangers lurking deep in the Jade Sea and find the source of the jade mine workers' corruption. In the brand-new map, Gyala Delve, you'll discover a dark side of Cantha that you haven't seen before!

This chapter is free to all owners of Guild Wars 2: End of Dragons forever. Unlike previous Living World releases, it can be unlocked at any time at no gem cost. You can learn more about this change in the latest studio update.

To begin this content, navigate to the story journal in your Hero panel, select "What Lies Beneath," then click "Play This Episode." You will receive a letter from Rama requesting your presence at the Red Duck Tea House.

Chapter Rewards

"What Lies Beneath" is jam-packed with Cantha-themed rewards! And there's something for everyone. Take a look at some of the rewards in the list below:

Weapons

Luxon Hunter's Weapon Set
Tahkayun's Edge (Sword)
Tahkayun's Reverse-Grip Edge (Dagger)
Tahkayun's Armor Piercer (Dagger)

Unique Armor Skins

Grinning Tahkayun Mask
Processing-Line Control Bracer Skin
Replica Oni Arms

Jade Bot Module: Turtle Pilot Booster with 3 Upgrade Tiers
Miniatures

Materialized Shrine Guardian Infant
Void Vinetooth
Void Emberknight
Void Brandbeast

Jade Miner's Chair

Finally, you can access a new PvP and WvW reward track in this chapter of Guild Wars 2: End of Dragons!

Soo-Won Legendary Variant Skin Collection

The final set of Aurene-based legendary weapon variant skins captures the beauty and power of the Elder Dragon Soo-Won. Speak with Leivas (located in Seitung Province, the Hall of Monuments, and Arborstone) after unlocking an Aurene-based legendary weapon to begin this collection! For more information, check out this blog post with details about the previous legendary variant skin collections.

World vs. World Objective Scaling Rewards

We released World vs. World Objective Scaling Rewards two weeks ago, and we're continuing to roll out updates to those rewards. When you're done saving Cantha (again), make sure to help your fellow world defenders on the battlefield!

And More!

We're adding a much-requested quality-of-life feature in the options menu that will allow you to adjust the intensity of map-based environmental visual effects in your game client. If you set the Environment Zone Intensity value below the maximum, it will diminish certain types of effects in various areas throughout Tyria. For example, the visual impact of the Void particles in Dragon's End can be reduced by lowering the slider.

Lastly, we're celebrating the new chapter of Guild Wars 2: End of Dragons with our annual March sales in the Gem Store! Check out this month's lineup of fantastic offers—including the new Black Lion Requisition Missions and improvements to the sales item availability —in this blog post.

Read this week's Gem Store blog to learn all about Black Lion Exclusives joining the Black Lion Statuette vendor's selection of permanently available goods.