Hits: 445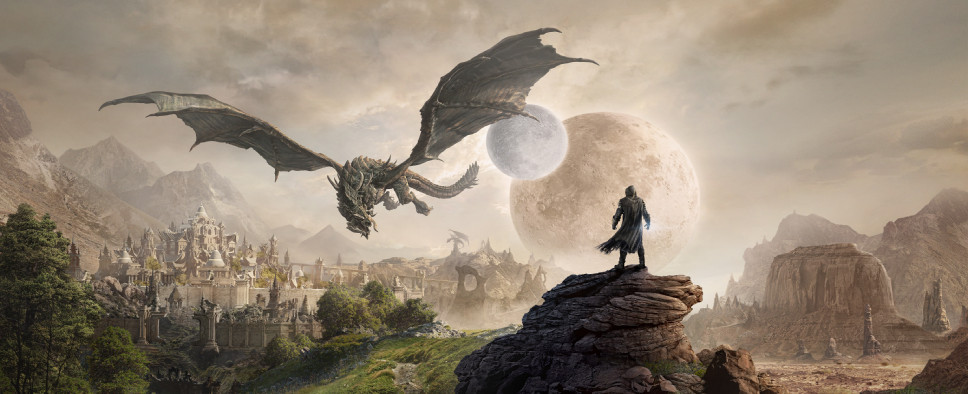 The Scribes of Fate DLC for The Elder Scrolls Online is scheduled to go live on March 13, 2023 when it will be kicking off the game's year-long Shadow Over Morrowind adventure. And together with this dungeon-packed DLC, we'll also be getting a free content update previewed in this article on the official website.
On top of the usual bug fixes and balance adjustments, this Update 37 will also be introducing several new features, including computer-generated screen narration, assorted improvements for the game's Housing System, and an option the mere notion of which is likely to make any Warcraft enthusiast utter a horrified gasp - the ability to hide shoulder armor.
Here's more on that:
Arriving in tandem with the Scribes of Fate DLC pack on March 13 for PC/Mac and March 28 for Xbox and PlayStation consoles, the Update 37 base-game patch is a free update for all ESO players—no additional purchase required. This patch introduces a series of balance changes, bug fixes, and new features.

SCREEN NARRATION

The latest in ESO's ongoing accessibility-focused improvements, Update 37 introduces Screen Narration, allowing you to have the majority of the game's menus (with some exceptions) narrated to you as you navigate.

This option becomes available for everybody who enables Accessibility Mode in the game's settings menu (navigate to Settings, then Accessibility), and it allows you to choose between a masculine or feminine voice and set both the speed and volume of the narration.

The narration is computer generated in the language you choose to play in (English, French, German, Spanish, Japanese, or Simplified Chinese).

Note that some menus and UI elements are not supported by Screen Narration at this time, including Scrying, Excavating, Tales of Tribute, lockpicking, and certain fishing and Champion Point screens. In addition, some gameplay elements, such as combat, in-world navigation, and interactable objects are not narrated in addition to interactions with NPCs and character dialog (to ensure it does not conflict with the voice acting).

We plan to integrate additional menus into screen narration in the future, and we hope this new addition to our Accessibility Mode options helps our players get the most out of the game.

HIDE SHOULDERS

Also arriving as part of Update 37 is Hide Shoulders, a new cosmetic Collectible that allows you to, well, hide whatever shoulder gear your character is currently wearing. Like Hide Helm, this option can be enabled when customizing your look in the Outfit Station. Simply navigate to Armor Styles, select Shoulders, and then select the Hide Shoulders "style."

To enable Hide Shoulders, you must first acquire it by spending Event Tickets at the Impresario during any of ESO's upcoming in-game events. Keep an eye out on elderscrollsonline.com for information on when the next event arrives—hint: it's a silly one!

We know the community has been asking for the ability to free their shoulders (without losing gear bonuses) for a long time now, and we can't wait to see the stylish-AND-functional new looks that come with it!

HOUSING IMPROVEMENTS

Finally, we squeezed in some new quality-of-life improvements for the Housing System. This includes a set of new filters for the Housing Editor's placement and retrieval tabs, allowing you to place items specifically from your bank, inventory, house storage, or collectibles, items that are bound or unbound, and items by the furnishing limit type they fall under.

We also added the ability to reset training dummies you're in combat with (making it easier to restart a parse) and improved your ability to see and manage who is in your home from the Housing Editor's Settings menu. This includes real-time notifications when guests arrive and depart, plus an option to kick occupants out if they're getting too rowdy!

In addition, when shopping for a new house, you can see a full list of the furnishings that come with both the furnished and unfurnished versions before you buy. If you're a Housing aficionado, look for these new features and more soon!

UPDATE 37 FOR ALL

These are just some of the highlights you can enjoy with the Update 37 base-game patch, and a host of further changes, additions, and improvements are not mentioned above. This includes updates to target markers (improving enemy player targeting and adding new settings) and a realignment of daily and weekly reset timers (10AM UTC for NA servers and 3AM UTC for EU servers) for daily quests, daily Enlightenment bonuses, daily writs, and more.

Update 37 arrives on March 13 for PC/Mac, and on March 28 for Xbox and PlayStation consoles. Don't forget, as a base-game patch, this update is free for all existing ESO players, with no purchase required! You can check out everything coming in Update 37 in the patch notes found in our Public Test Server forum right now, or check out the live patch notes forum when it arrives in March!