Hits: 1774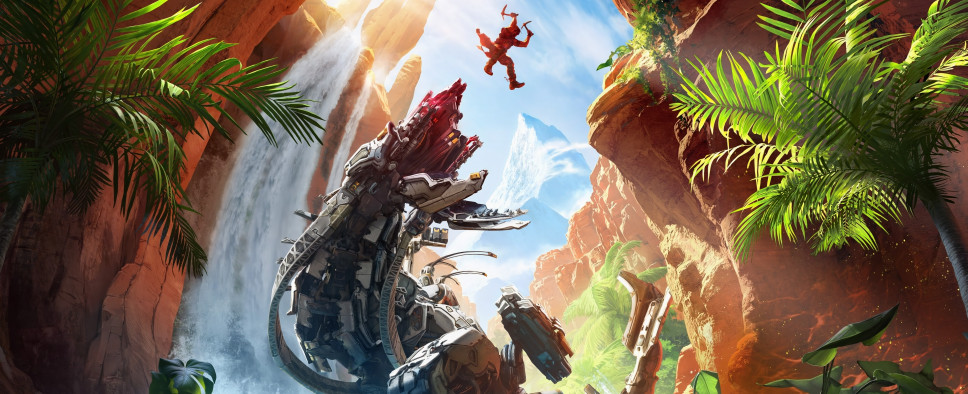 Horizon: Call of the Mountain, Guerrilla and Firesprite's PlayStation VR2 spin-off of Guerrilla's retro-futuristic open world series, is scheduled to go live on February 22, 2023. And in a rather refreshing turn of events, we can already check out a decent number of reviews for this innovative title.
But before we get to those, here's the game's official launch trailer:
And here are the reviews:
IGN 7/10:
Horizon Call of the Mountain's exciting highs elevate it just enough above its often monotonous climbing mechanics to create a fun first blockbuster-scale entry into the PS VR2 library. Through intuitive design, awesome spectacle, and gripping combat, Horizon's first step into virtual reality is one packed with exciting encounters that its slower stretches may sometimes detract from, but never threaten to derail completely. It's an enjoyable, if not essential, chapter of the Horizon story.
GameSpot 7/10:
The ongoing refrain of "familiar done well" is the defining quality of Call of the Mountain. There's nothing revolutionary in the game that moves VR gaming forward and it doesn't do anything unexpected, so it ends up being exactly what it looks like: a well-made Horizon game in VR that has good climbing and shooting, as well as pretty environments to look at. As a showcase of what can be done with the PSVR 2, it more than handily serves its purpose.
Game Informer 6.75/10:
Horizon Call of the Mountain is a good showcase piece for PlayStation VR2. It is the game to use if you want to show off your new technology to friends and family. There is even an unlockable mode perfect for this, which is a passive journey on a canoe through a robot-infested jungle. What holds the game back tremendously, though, is Call of the Mountain's overreliance on climbing. The smaller parts of the game, fighting robots, making items, and looking around, are highlights. Pulling yourself up a mountain isn't, and that's where you spend most of the approximately six hour experience.
ScreenRant 4.5/5:
Horizon Call of the Mountain is, however, an excellent game in its own right. As a showcase piece for the early days of PlayStation VR 2, Sony probably couldn't have asked for a better launch title. Call of the Mountain's intensely beautiful visuals and well-developed main gameplay systems make it a meaty virtual reality experience that's absolutely a must-own for anyone who picks up PSVR 2. While its price feels a little steep, especially in conjunction with the hardware that supports it, anyone willing to make that leap will be just as satisfied as they will inevitably be by Ryas' adrenaline-pumping feats of strength hundreds of feet in the air on a mountainside.
PlayStation Universe 9/10:
Despite its linear nature, Horizon Call of the Mountain remains a truly stellar showcase of the PSVR2's capabilities. From the retina-searing 4K HDR visuals that are generously bleeding with detail and fidelity, through to the deft use of haptic feedback and adaptive triggers in the PSVR2 Sense controllers which ensure that players are utterly immersed in the climbing, exploration and combat within its world, Horizon Call of the Mountain is a highly enjoyable action adventure that fans of both the series and great VR games in general can effortlessly enjoy.
VG247 3/5:
I'm sure you've glanced at the review score below and made a judgement on Horizon Call of the Mountain, but despite that score I still think all PSVR2 owners should pick this up. It's undoubtedly the most spectacular VR game I've ever played, it's got plenty of cool gameplay moments that show off the controllers, and it's a full-on game to play through, but it's also a bit tedious at times, and boring at others.
Road to VR 8.5/10:
Horizon Call of the Mountain takes players on a fun adventure throughout a breathtaking world, showcasing some of the best graphics you'll find anywhere in VR. Beyond the epic vistas, the game's smaller details—like rich foliage, an array of climbing gadgets, and interactive props—make Call of the Mountain a very immersive game. It's a joy to see the sci-fi beasts of the Horizon world up close in VR, and their excellent animations and sound effects make them thoroughly believable. While combat could be a bit more fluid and climbing could have more interesting challenges, as a whole the game offers up a satisfying dose of VR native gameplay. Beyond the great environmental art, Call of the Mountain's characters are also impressively rendered, though unfortunately they're not involved or developed enough to make them memorable.
And on top of that, you may also be interested in this recent PlayStation Blog article focused on how Call of the Mountain adapts Horizon's world to a VR environment. A quick excerpt:
Redesigning machines for a new POV:

Since you see the action from the eyes of Ryas, the developers had to make some adjustments to Horizon's famous mechanical terrors. "The team wanted to ensure that the impressive machines were elevated to new heights in Horizon Call of the Mountain," notes Richard Oud, Studio Animation Director at Guerrilla. "When seeing them up close, they feel even more imposing and realistic thanks to the added sense of scale. This level of immersion, achieved by the virtual reality space, brings each machine to life in a way players haven't experienced before."

Because of the first-person, all-surrounding point of view, the models and animations for several machines had to be re-adjusted, Oud explains."The VR headset allows for a more detailed and interactive experience and for players to see the machines from new angles. A lot of work went into redesigning the combat and animations to allow for this. And even more attention has been put into readability during combat to make sure the attacks and behavior of machines are clear from a new perspective. Players can now use their physical movements to strafe around, aim, and shoot, adding an extra level of realism and action to the battles."