Hits: 880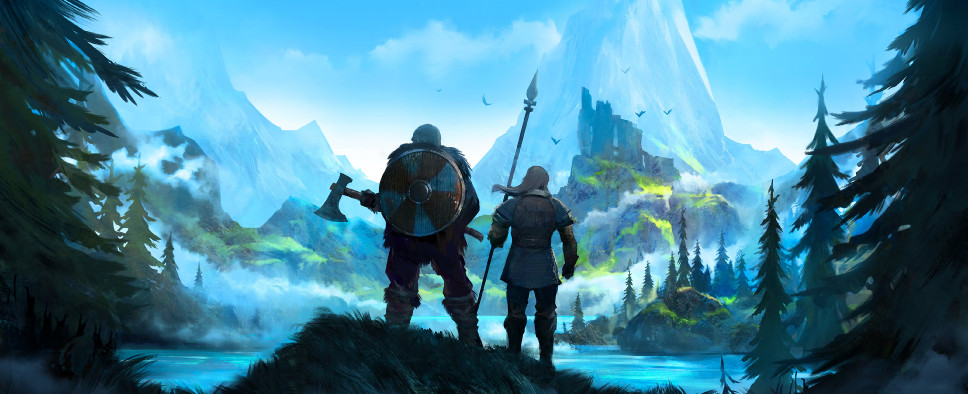 Iron Gate released their latest Mistlands early access update for Valheim last month. And now that the dust of countless new Viking dwellings being built has settled, they follow that release up with this here development blog looking towards the future.
As a result, we get to learn about the team's plans to now focus their efforts on populating the game's volcanic Ashlands areas with content inspired by various visions of the Underworld. We're also treated to a few development insights and a couple of pieces of concept art.
And while the Ashlands update is still only looming on the horizon, in the short term, we should soon be getting a smaller update introducing a new quest and some extra character customization options.
Here are the text bits:
Happy new year, vikings!

We opted out of writing these regular development blogs for the last part of 2022, figuring there wasn't much more we could tell you that wasn't about announcing the Mistlands update itself! But now we have passed that particular milestone, and it's time to look towards the future.

First though, we want to say a most heartfelt thank you to all of you who played the Mistlands during the Public Test phase, and to all of you who have played the update since it was released properly. Thank you for your feedback, for your thoughts and for your time! With Mistlands being such a large and long-expected update, it was quite scary to finally reveal it to all of you, and it was such a relief to see how much you liked it!

But now to the future, for real.

Our next big biome update is going to be the Ashlands, and we have begun with the pre-production of that biome by creating some concept art and trying to work out the feeling we want the biome to have. It will be quite different from what we're all used to, given that the Ashlands is a large chunk of land at the far south of the map, rather than small islands spread out over the world.

When it comes to development itself, there is something we would like to do very differently this time. With the Mistlands, we were very secretive. This is great for those who want to discover as much as possible for themselves (which is the main reason why we kept so much hidden), but it's also not very transparent. Therefore, our ambition with the development of the Ashlands is to show you a lot more of the process. This will mean you will see things in their early stages, and maybe even things that won't end up making it into the game at all, but you will also hopefully have a better understanding of how far along the development has gotten. We'll be trying this out for the Ashlands development period and see how it goes, and we'd like to start off right away by showing you some enemy concepts[...]

As you might be able to guess from these images, our current design vision for the Ashlands is that it's a land of the dead, as well as a place with quite a volcanic nature. We're really looking forward to exploring the concept and finding out where it will lead us, and we're excited to have you along for this journey!

If you're concerned about the Ashlands taking a long time to develop, you can rest assured that we have some fun things planned for you between then and now. Something you already know is that Valheim will get an Xbox release early this year, and with the crossplay support you will be able to play with your console-bound friends. We have also talked about adding some new difficulty settings, and we are working on something which we're currently calling Hildir's Quest! While the programming and QA folks were busy working out the final bugs of the Mistlands, our artists got creative and designed some brand new clothes for your characters, which became the start of this little update. The clothes might still get further changes, but we think they're looking pretty nice so far!

Hildir's Quest will also have some other fun things, like an additional NPC (the eponymous Hildir herself) and a way for you to re-style your existing characters' hair! Don't worry though, an update like this won't be taking any significant time away from the development of the Ashlands. Due to the nature of game development, not everyone can work on the same thing at the same time, and working on something like Hildir's Quest will ensure that the Ashlands pre-production can proceed while the team works as efficiently as possible.

Another thing we want to do in the future is to improve the accessibility of the game. This is long overdue, but we want to finally add some options so that more people can enjoy Valheim. If you have a disability or any other factor that affects your gaming, you are more than welcome to send us an email and tell us a bit about it and about any solutions you can think of that would improve your experience.

[...]

Thank you for joining us on the Valheim journey thus far, and let's head into 2023 together!

/The Iron Gate team

If you'd like to discuss the content of this post, please visit our Discord, or our forums on Reddit and Steam, or make a comment on social media!