Hits: 1262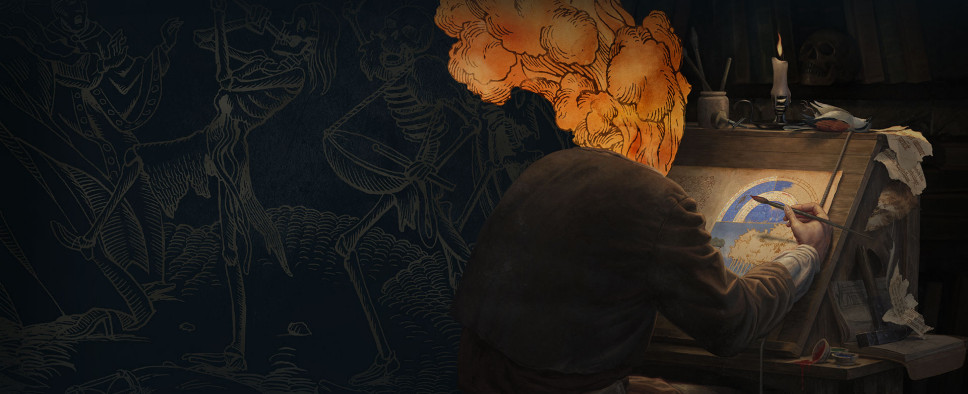 Obsidian Entertainment's Josh Sawyer-led historical narrative RPG Pentiment is now live on Steam and as part of the Xbox Game Pass subscription. The Steam version will set you back $19.99 or your regional equivalent and invite you to engage in some medieval sleuthing in early 16th century Bavaria.
Here's the official launch trailer:
And the game's description:
From Obsidian, this game is a historical narrative-driven game focusing on character development, heavily stylized art, and choice-driven storytelling in early 16th century Bavaria. Players will play as Andreas Maler, a clever illustrator caught up in a series of murders in Tassing and Kiersau Abbey over the course of twenty five years. Players will be responsible for conducting their own investigation to decide the fate of the community, but each decision will have lasting consequences and inexorably draws Andreas closer to the center of an underlying conspiracy.

Illustrated world

Experience 16th century Europe as the master artists of the time saw them. Art inspired by great illuminated manuscripts and the earliest printed books becomes a living, breathing world in Pentiment.

Uncover mysteries

Choose different academic and social backgrounds and meet a colorful cast of characters as you discover the stories and secrets that lie within the small Bavarian town of Tassing and nearby Keirsau Abbey.

Impact a changing world

In an era of great religious and political change, each decision you make can have a profound impact on the community's future. Find your own way through this turbulent time and see the consequences of your choices play out over generations.
Then, you might also be interested in some reviews for this project:
IGN 10/10:
As an engrossing 15 to 20-hour adventure game, a chronicle of a small town and its people in turbulent times, a reverent celebration of the finer details of Late Medieval history, and a clever detective story in which straight answers are hard to come by – Pentiment is a clear champion. My gripes about it are all relatively minor, and I look forward to playing it at least once or twice more to explore roads not taken. It never suffers for its simplicity, lacking in combat or traditional puzzles, because of how effectively it tangled me up in the complexities of its gorgeously-realized world and made me want to learn all I could about its people and its past. There isn't much more to say about Pentiment, other than I can hardly recommend it highly enough.
PC Gamer 88/100:
Pentiment is a rare beast: A relatively short, gameplay-light narrative adventure from a studio renowned for its lengthy, mechanics-heavy RPGs. Even stranger, the team pulled it off with aplomb. Yes, there are some mechanical quibbles, and it did take some coaxing to get me to accept the central mystery's final resolution, but Obsidian's tight grasp on its subject matter and thorough understanding of exactly what it wanted to do with Pentiment has produced a game that I wanted to launch again just as soon as I finished it. I want to see what happens when I pick a different constellation of background traits, pursue different leads, and pass the persuasion checks I failed (and fail the ones I passed).
GameSpot 6/10:
As is, Pentiment strives to exist somewhere between a history book and historical fiction, not quite committing to a detailed look at history or fulfilling a narrative arc. This is a detriment to the game's conclusion, dampening my memories of the game save for the stories of individual characters. I retain a soft spot for the wise Illuminata and her conversations with Andreas about literature and religion, and I have a parental fondness for a young peasant girl who I watched grow from a gurgling toddler to a young woman. Witnessing their lives play out is a narrative delight, only enhanced by the creative use of Pentiment's different fonts to better convey a person's societal station or education. But limiting how much time the player actually has to engage in the game's best parts hurts the overall experience too much.
WCCFTech 8.5/10:
Pentiment won't be for everyone. It's bookish, sometimes a bit dry, and demands you take its questions about the nature of religion, art, and other heady subjects seriously if you want to get the most out of its narrative. If that sounds like your sort of thing, you can look forward to a rich, well-researched world you'll truly feel a part of and a fantastic story that serves up numerous memorable, moving twists and turns. Pentiment will leave an indelible mark on you if you just give it a chance.
GamesRadar+ 4.5/5:
There are times when Pentiment crawls a little too slowly, particularly in a third act which jettisons the compact timeframe of its predecessors. Yet there are intriguing new themes still being introduced even then, celebrations and customs to enjoy, and conspiracies left to unearth (leading to an ending that's almost worthy of Eco himself). Tasked with deciding how the history of the town will be recorded, and especially a terrible event that's scarred the community, it's up to you to ponder truth and reconciliation, consider what it means to progress, and whether disaster can lead to better lives in the long run.
GameRant 3.5/5:
The Italian word pentimento is defined as: an underlying image in a painting, one that only becomes visible when the top layer of paint turns transparent with age, showing evidence that it was revised by the artist. Pentiment smartly shares this definition through its replayability by placing a new story on top of the previous one, with the player painting a new history for Andreas and the town of Tasling each time. Some players may create chaos, others will try to keep the peace, but each will be able to tell the story of Pentiment in their own way. It is interactive choose-your-own-adventure story-telling at its best, and although it feels too short, hopefully, there will be more tales and tomes like this one from Obsidian in the future.
VG247 5/5:
The names, faces, joys, and sorrows of long dead individuals may now be lost in the fog, but we can get a fumbled sense of the world as they experienced it from the clues they left for us, and indeed, through new works that refresh and reinterpret their stories for generations hence.

Pentiment is about that phenomenon, and also a manifestation of it. It's one of the most engaging and accessible works of living history ever commissioned, and the fact that it exists at all - let alone as a major platform holder's first-party RPG heading into the Christmas season - is a miracle worthy of the saints.