Hits: 609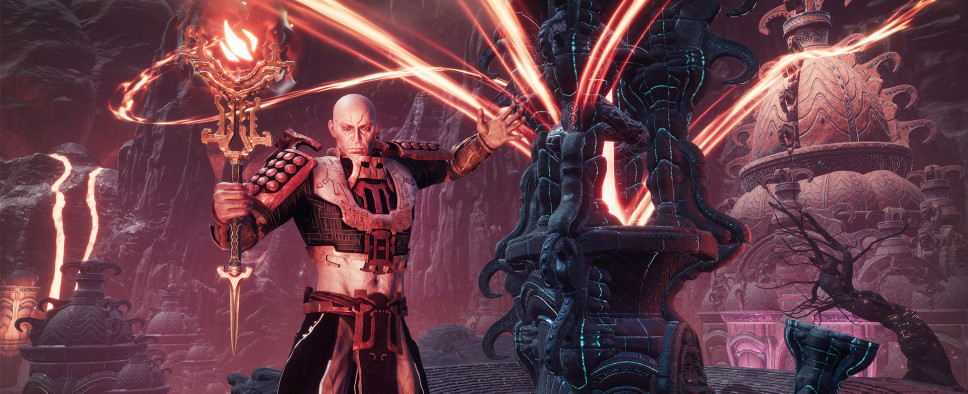 If you consider yourself somewhat of a digital architect, you can now participate in the so-called Yogtoberfest contest when playing Conan Exiles. Basically, between now and October 31, 2022, we're invited to build some themed structures in the game, submit them for consideration, and possibly win some in-game cosmetics and DLCs.
The link above has all the rules, and here's just a general overview of what you'll need to do:
A harrowing wind starts blowing as Yog grows restless in his sleep, waking up to suffocate the world in his cloud of nightmares.

Yog demands one thing. A beautifully horrible place to spend the Yogtober together with his favorite worshippers.

What To Do:

Exiles, welcome to Yogtober. Our new building contest brought to you by us and your favorite deity, Yog. Your task is simple: create a building that best fits the category of your choosing. You can choose to participate in any one of the categories and create your own personal nightmare.

Judging will be based on creativity, originality, and how well they fit with the chosen category. Judges will be from the community managers, community support, and a select few Exiles volunteers.

The buildings do NOT have to be Yog themed, we just think he's pretty neat.

So what are these categories?

Gothic: The romance in horror. Maybe a fascination with the dark, a sudden interest in the macabre. Pastel tones, black dye, the everbright grace of subtle white touches. Turn your home into your very own gothic canvas.
Haunted House: Creaking floorboards, something's ticking on the window… Did you hear something? Huh, must be the wind. Watch out for the chain clanks you might hear in the night and never, I mean NEVER go into the room with the red door.
Necromancer's Tower: The dark magics of the afterlife are calling to you. Answer them, but do it in a stylish way. Build a Necromancer's Tower fitting for a dark sorcerer and imprison the earthly light inside so it is unreachable for the ones that need it.
Sacrificial Temple: Sorcery is here. And you know there is no sorcery without some blood magic. What do you need for blood? That's right, a sacrifice! Make your very own sacrificial temple to lure curious cats and do your bloody deeds.
Cabin in the Woods: Never fails to scare off even the bravest exiles of them all. Isolated, in the middle of the woods, away from all living life… or is it? Only way to find out. Build a cabin in the woods and attract all kinds of cryptids so you can have a crazy party when Yog arrives.

Take your pick and start working on your cozy horror house!

There will be two winners for each category, one for unmodded and one for modded.

Feel free to share your creations on social media!