Hits: 675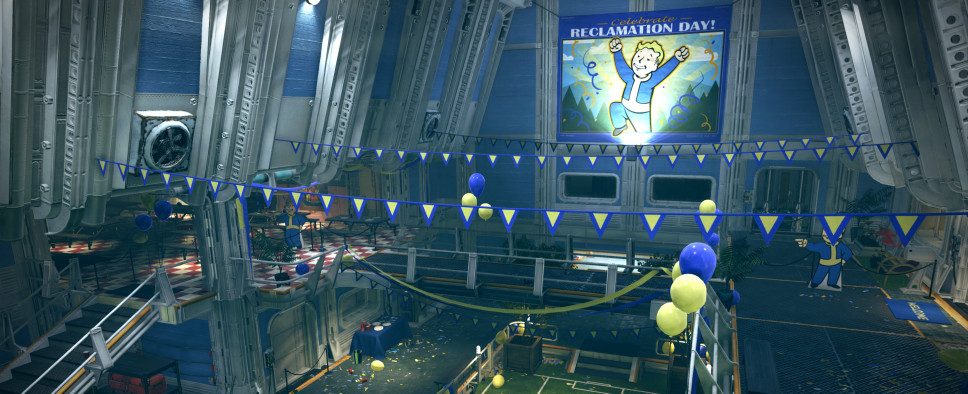 Bethesda brings us a new development update for Fallout 76 that highlights an upcoming patch for the game, as well as a number of in-game events, both anniversary and seasonal. It also shares this community-focused Vault Boy video:
And here are the text bits:
Welcome back to Inside the Vault! Next week we're bringing an all-new update to Fallout 76, kicking off a brand-new Challenge Event, Trick or Treating in Appalachia, and chasing down Spooky Scorched! Read on to learn more.

NEW UPDATE ARRIVING TUESDAY

Tuesday, October 25th we are planning on releasing a new update to Fallout 76. This update will be smaller than some of our larger updates that bring new content into the game. With this update, we're bringing new items into the Atomic Shop to release over the coming weeks, addressing a number of bugs, and kicking off a brand-new Challenge event for the 25th Anniversary.

We are currently looking to begin maintenance for Fallout 76 at 10:00 a.m. ET on October 25. We will be sure to share update with you in the Bethesda Studios Discord and the Fallout Twitter so that you know precisely when you can log back in.

CELEBRATE THE 25TH ANNIVERSARY AND EARN REWARDS!

The Fallout 25th Anniversary is nowhere near over! For the next two weeks, visit the Atomic Shop to claim a free Daily Mystery Item. Once claimed, players can complete Daily Challenges using the Mystery Item to earn rewards! Completed Daily Mystery Item Challenges earn you progress towards Weekly Challenges to unlock the Wild Mountain Rifle Range Prefab in your build menu!

25TH ANNIVERSARY EVENT DETAILS

Event Start: 12:00 p.m. ET on October 25
Event End: 12:00 p.m. ET on November 8

TRICK OR TREATING AND SPOOKY SCORCHED

Grab your costumes and get ready! It's time to go Trick or Treating.

Starting October 25, you can hunt down costumed Scorched throughout Appalachia to loot Mystery Candy, Spooky Treat Bags, and of course, legendary items. Track down Scorched at their usual haunts, keep an ear out for their spine-tingling sounds, and you're bound to find at least a few who are dressed up for Halloween.

In addition, C.A.M.P.s that feature a pumpkin icon on the map are welcoming sweet-toothed trick-or-treaters who are in search of some candy. Don your favorite costume and collect Mystery Candy from Spooky Candy Bowls at other Dwellers' Haunted Houses. You can also invite trick-or-treaters to your C.A.M.P. by claiming a free Spooky Candy Bowl of your own, which will be available in the Atomic Shop for the duration of the event. Place your Spooky Candy Bowl with Mystery Candy you've collected from Spooky Scorched or train station vendors. Whenever you trick-or-treat or give out candy to trick-or-treaters, you'll earn progress towards Halloween-themed Challenges, which you can complete to earn rewards until November 8.

SPOOKY SCORCHED AND TREAT OR TREATING DETAILS

Event Start: 12:00 p.m. ET on October 25
Event End: 12:00 p.m. ET on November 8

HUNT FOR THE TREASURE HUNTER!

Moleminer Treasure Hunters have been spotted around Appalachia, searching Legendary loot to add to their collection. Listen carefully for their unique sounds as you explore, as these reclusive Moleminer's are skittish compared to their above-ground counterparts. Claim their Moleminer Pails loot for yourself, or purchase pails from any robot vendor.

HUNT FOR THE TREASURE HUNTER DETAILS

Event Start: 12:00 p.m. ET on October 20
Event End: 12:00 p.m. ET on October 24

DEAR VAULT BOY...

Over the years, Fallout has touched the lives of millions of players worldwide. Join us in celebrating some of these stories with Vault Boy! This week, Vault Dweller Erinn shares their story of discovering love in Appalachia.

The #Fallout25 Celebration continues all month long! Be sure to check out fallout25.com throughout the month of October to stay up-to-date on the festivities. Don't forget to also share with us your own Fallout memories and fan creations on Facebook, Twitter, Instagram, and out Official Discord Server using the #Fallout25 hashtag. We'll see you there!