Hits: 388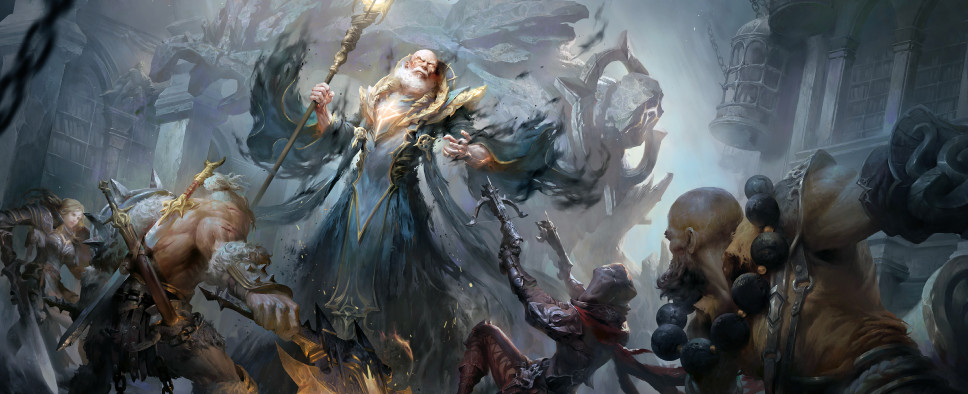 With the spooky season pretty much upon us, Blizzard Entertainment's mobile-focused action-RPG Diablo: Immortal can now boast a couple of fresh seasonal events, and the Recruit a Friend feature to go along with them. Here's an overview of the major new items:
Welcome, foolish mortal. . .

Sanctuary's air is rife with magical mischief, and not the usual variety—you've made it just in time to celebrate Hallow's Wake, a limited-time extravaganza filled with fright and delight!

The lines between life and death have blurred during this hallowed hour, so don't trouble yourself trying to decipher between man and monster. . .there are both tricks and treats on the horizon. Plus, use the new Recruit a Friend feature to rally trusted allies to tackle the long night with, complete harrowing Hallow's Wake tasks, and more!

As with previous Content Updates, there will be server maintenance starting on October 11, from 5:00 p.m.–7:00 p.m. PDT for Oceania, China, East Asia, Southeast Asia, and Europe Servers, and on October 12 from 1:00 a.m.–3:00 a.m. PDT for servers in the Americas. After the maintenance has concluded, all items mentioned below will be live—specific dates for any content going live afterward are provided below.

HALLOW'S WAKE LIMITED-TIME EVENT

"Crawling out their graves,
Who knows if they'll misbehave.
These hellacious haunts like to flaunt,
Their handiwork leaving Sanctuary gaunt.

For 666 years they have reanimated in celebration,
Hang around and you'll see they live up to reputation.
Don't be fooled by their late-night revels,
These sinister spookies are worse than devils."

-Popular Khanduras Tavern Tune

Can you feel it, adventurer? THEY'RE ALIVE!!

From October 19, 3:00 a.m.–November 2, 2:59 a.m. server time the boundary separating the living and dead grows paper thin. For a short while, two realms fuse into one for Hallow's Wake, where dastardly demons and specters run amok in mischievous harmony.

During this spectacle of spirits, players level 20 and above will be tasked with eliminating ghastly goblins, vengeful dead, and cleansing haunted rifts in exchange for Hallowed Stones. These stones can be traded for spooky rewards, such as the Strawman Sack Mask, Ghosted Emote, and Hallowed Choker Portrait Frame. They can also be used to Trick or Treat with the mysterious Crone or a friend of your choice. Will you bestow a treat upon your friends, or hex them with a devious trick?

RECRUIT A FRIEND

Hell's servants' number many and will stop at nothing to see Sanctuary crumble in their maw. You must rally allies under your banner if you wish to turn the tide in humanity's favor, for friends who slay together forge unbreakable bonds.

From October 12, 3:00 a.m.–November 8, 2:59 a.m. server time, revel in the Hallow's Wake spirit with new friends at your heels by using the Recruit a Friend feature.

To recruit players, you must be at least level 20. Each player has a unique code that can be found on the Recruit a Friend event page. To be recruited by another player, you must be playing on a new character created on October 12 or after, be under level 20, and have completed the introduction to Diablo Immortal.

If you want to recruit a player who meets the requirements, share your code with them via the event page, and if they redeem your code, they are officially recruited. You may recruit a total of three players using this method. Both the recruiter and recruit will receive various awards as the recruit levels up and completes tasks around Sanctuary.

Rewards for recruiters:

Share your code once: Two Enchanted Dust, 30 Scrap, and 5K Gold.
One friend redeems your code: Six Rare Crests and six Normal Gems
One friend reaches level 60: One Legendary Crest, three Rare Crests, and six Normal Gems
Two friends reach level 60: One Legendary Crest, three Rare Crests, and six Normal Gems
Three friends reach level 60: Grim Fellowship Portal Cosmetic, two Legendary Crests, and nine Rare Crests

Rewards for new recruits:

Reach level 10: 10K Gold
Reach level 30: One random Legendary item from your class
Reach level 50: One random Legendary item from your class
Reach level 60: Six Rare Crests
Complete an Elder Rift while in a party: Two Enchanted Dust, 30 Scrap, and 5K Gold
Complete a dungeon while in a party: Two Enchanted Dust, 30 Scrap, and 5K Gold
Complete a Challenge Rift while in a party: Two Enchanted Dust, 30 Scrap, and 5K Gold

INFERNAL KNOWLEDGE LIMITED-TIME EVENT

There are few in Sanctuary capable enough to stand against the darkness and wager their life for the defenseless. But you, adventurer, have consigned your days to thinning out the ranks of the Burning Hells, ushering in safety where all hope was once lost. Your quest to serve the downtrodden grows in complexity—equip yourself with Infernal Knowledge to prevail.

From October 12 at 3:00 a.m.–October 26 at 2:59 a.m. server time, as you complete daily Infernal Knowledge tasks, you'll receive various rewards for your heroics. Racking up enough completed tasks will also unlock milestone rewards for you—an ode to vanquishing countless demons.

HALLOWED DEAD COSMETIC SET

It wouldn't be a proper Hallow's Wake celebration without ethereal garments to strut about in. But why just imitate a monster when you can become one instead? Live out your ghoulish fantasy with the Hallowed Dead Standard Cosmetic Set. Each class has been possessed by a unique fiend—head to the Hallow's Wake event shop from October 19, 3:00 a.m.–November 2, 2:59 a.m. server time to check them all out and grab yours for 1,000 Eternal Orbs.

WALTZ MACABRE COSMETIC SET

Coming into close confines with death has become commonplace for many of Sanctuary's denizens. So much so that the macabre is an extension of personhood. For Westmarch's most rarefied courtiers, it manifests in the form of fashion—the translation of death into a wearable statement piece.

Embrace the grisly machinations of your mind, then wear them on your sleeve with the Waltz Macabre Standard Cosmetic Set, purchasable from the in-game shop for 1,000 Eternal Orbs beginning on October 12 at 3:00 a.m. server time.