Hits: 616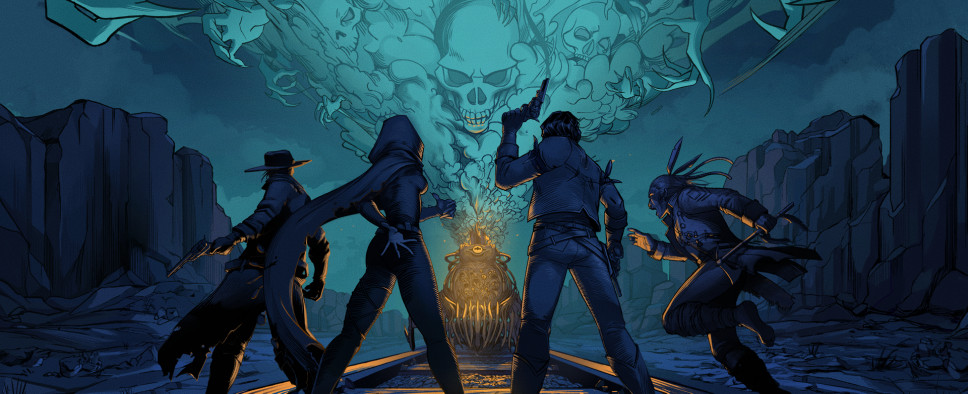 It seems that supernatural gunslinging is in style these days, as Ice Code Games and Good Shepherd Entertainment now bring us Hard West II, a follow-up to CreativeForge Games' turn-based Western from 2015. Available on Steam and GOG and priced at $29.99 or your regional equivalent, Hard West II invites us on a turn-based quest to catch a mysterious Ghost Train.
Here's the official launch trailer:
And the game's description:
Blaze a trail back to the dark heart of the West in Hard West 2.

You are Gin Carter, a notorious outlaw with a reputation as dangerous as the frontier itself.

On the hunt for a big score, you hear talk that the legendary "Ghost Train" is heading your way loaded with federal gold. This is the one.

You swiftly assemble a posse of outlaws, some with guns, others with the kind of supernatural skills that make saloon bars fall silent in a split second.

Night falls and the posse rides out, silhouetted in the spectral light of the moon. Together, you transform the prairie into an ungodly land echoing with gunfire and the screams of the hunted.

But once on board the train, you discover it's not named the "Ghost Train" for nothing. What follows is the fight of your life through the uncharted badlands of the Hard West, propelled by bullets, witchcraft, and your pursuit of personal salvation at any cost.

Chase down the devil himself and take back what he stole — your soul.

Features

THE GOOD, THE BAD, AND THE UNDEAD: Folktales of the far West collide with the darkness of the occult in an unforgiving land riddled with as many demons as there are bullets.

CONQUER THE DARK FRONTIER: Explore the far reaches of the Wild West in a desperate fight to save your soul. Discover more about your posse as you wander the lands, from snow-covered vistas to frontier towns, struggling to survive in a merciless world. Make brutal choices and learn to live with the gruesome consequences.

SHOW YOUR BRAVADO: Rack up kills to activate your Bravado State and replenish your Action Points as you roam the land taking down anyone — or anything — that gets in your way. Chain together stylish kills of multiple foes to extend your streak and shore up your reputation as a legendary gunslinger.

SUPERCHARGED POSSE: Unearth mysterious playing cards to build your posse's poker hands, and kit them out with punchier guns, explosives, trinkets, or just a square meal of beans and whiskey to keep them in top six-shooter shape.

UNNATURAL LEADER: Like it or not, responsibility for your growing posse of gunslinging outlaws, teleporting witches, and other mysterious beings lands at your boot-clad feet. But be careful who you listen to and what you ask them to do. The right choices lead to more Loyalty Points and useful new skills for those closest to you, but choosing poorly will test their commitment to your cause.

SHOOTOUTS ON THE MOVE: With projectiles of lead and witchcraft, the turn-based combat happens in dynamically shifting environments, keeping your brain as busy as your trigger finger. Let your imagination of Westerns run wild, from chases on horseback to tense train hold ups, as you hone your strategic skills to a fine edge.
And if you'd like to know more about the game, you can find some reviews below:
IGN 7/10:
Hard West 2 is one of those times where I can pick out little things I didn't like all day, but whatever cracks exist in its game design or storytelling are plastered over by its impressive environments, world, and characters. For every shotgun blast I couldn't take or strategically narrow mission I had to restart there was at least one time I cackled madly while Cla'lish chained together headshots or Laughing Deer whooped madly while bashing in head after head after head.
GameSpot 8/10:
Much like that final mission enemy, Hard West 2 gets it right where it counts. Despite some thin RPG trappings, it's ultimately a highly-accomplished game of tactical combat with two or three genuinely terrific ideas executed exceptionally well. While it does suffer from a lack of imagination in some of its map design, that doesn't detract too much from how enjoyable it is to stand shoulder-to-shoulder with your posse and find creative ways to put down hordes of Wild West demons.
WCCFTech 7.7/10:
With its interesting setting that combines the Old West with supernatural and occult elements and solid tactical turn-based combat with excellent pacing, Hard West 2 is a worthy purchase for fans of the genre. However, balancing issues, limited character customization, which force players to play in specific ways, and a general streamlining of the tactical combat experience make the game more shallow than expected, inevitably turning off some veterans of the genre.
Eurogamer Scoreless:
I love tactics games, I think, because of all genres, these are the games you really live in. You move so fast through a platformer or an FPS, but with a tactics game I can spend a half hour spinning the screen, clicking on enemies, trying to get a bit more out of a move I haven't even made yet. I lean back and I lean forward, taking in the whole vista one moment, and then pondering the potential of a single unit, a single skill, the next. All of that and ghostly cowboys? All of that and Bravado? All of that and that third action point to make sense of? Yes please. Absolutely.
NME 4/5:
Hard West 2 is a compelling turn-based tactics offering with a memorable style of combat. While the central story and the characters underpinning it may feel a little sketched out, the world and the little details within it are compelling. A rooting, tooting good time.
GodisaGeek 8.5/10:
Everything feels authentic in Hard West 2. From believable characters to the gritty, high-detail art style that seethes with atmosphere, to the top-notch sound design, as a complete package it stands out even among some of the best in the genre. The chance to hit is a pain, and the odds are certainly stacked against you, but for many players that's a good thing. It's not the most original game, but it's a compelling and continuously surprising experience nonetheless.