Hits: 1357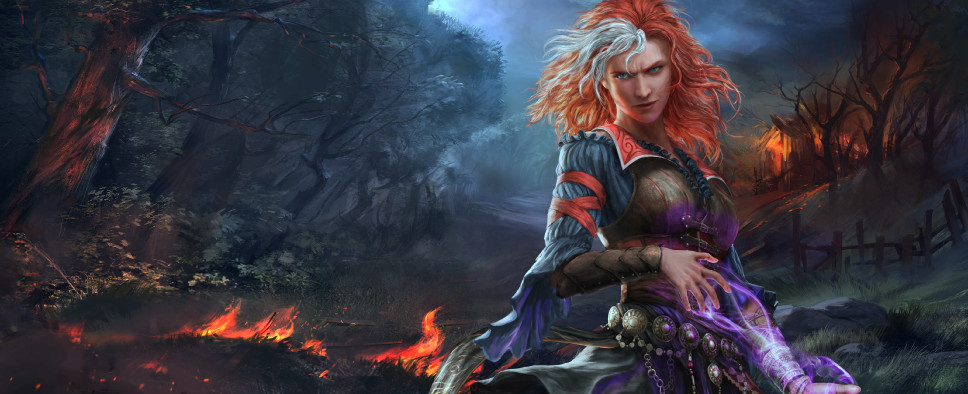 The board game version of Divinity: Original Sin was originally supposed to be shipping back in 2020. And while some of the delays could be attributed to the whole Covid thing, by now it's clear that the game won't be released in 2021 either.
As a result, we get this Kickstarter update that tells us to expect a release around Q3-Q4 2022, offers refunds to those who would like to get off this ride, and lists some recent changes that should in theory make the extra wait worth it. Check it out:
Hello everyone and welcome to Update 28 for Divinity Original Sin: The Boardgame.

We know that the journey has been long and the delays have been frustrating, and we thank you for your support and feedback while we strive to make the best game we can. While we've been quiet these past few months, they've been incredibly fruitful on the development side and we're delighted with where the game is and where it's going. There are big changes.

We've brought in some experienced reinforcements to help us finish the game and they have made a real difference. We've finally quashed many of the design problems that come with making a game of this scope, and we're feeling confident we've got this now.

So let's talk about how this game is going to be in your hands and played on your tables in 2022. There is still some work to be done, but this is the start of the home stretch.

Fresh Perspectives

Meet Noah Cohen and Brian Neff. You may know some of the projects they've worked on, most notably Betrayal: Legacy, Return to Dark Tower, and Unmatched. They've developed a reputation for bringing games of this epic scale to completion, while also becoming quite specialised in joining and finishing existing projects. Their changes, improvements, designs and insights are proving invaluable as we refine the game in this final iteration.

We're continuing to heavily invest into the game, as we brought in Kat Kruger as a writer to work closely with Brian on finalizing the narrative. Kat has worked on some phenomenal projects in the past such as HeroQuest and Betrayal at Baldur's Gate (sounds familiar!). Not only that, but she's an acclaimed fantasy author and a crafter of D&D adventures such as X Marks The Spot: A Plane Shift Ixalan Adventure. The perfect fit.

These new additions to the team have helped streamline the experience of playing Divinity: Original Sin the Board Game and it is now much easier to explain it to new players. The experience hasn't lost any of the depth, it just makes it much simpler to digest so you can get straight to the gameplay while avoiding some of the more convoluted rules and systems that blocked you from the fun.

Changing the Circle to a Square - The Storybook

One of the biggest changes is the Storybook. In short, the game board and the encounter book have now become one.

What we consistently found across our internal testing was that the game's story needed to be conveyed more clearly. In its previous format, entries were too long and consulting them very often slowed down the game and pulled players right out of the experience. And while exploring the world with our Location Cards was working really well, jumping between the cards and book multiple times in a single session was breaking the flow.

So after a significant amount of testing and prototyping, we eventually developed the new Storybook. The Storybook now contains all of the game's core Locations, both in text story AND Location cards. It presents each of these Locations in a gorgeous large page spread that features everything you loved from the old board - spaces for miniatures; the new and improved initiative track; Locations cards that can sprawl and be explored.

As you can see from the image, the old octagon-shaped (circle) board is now a (square) rectangle!

This results in a better use of the game's footprint on the table. It also preserves the unique gameplay of exploring location cards, and gives us more room to allow for dynamic and varied experiences per location - while dramatically shrinking setup time. From our early testing, we've found this new format results in a smoother experience for players. And it's way more fun. You flip open the Storybook, scene-setting text, set out your minis, get the Location-specific card deck, and you're off on your adventures together.

Character Creation Is Now As Easy As 1, 2, 3, 4

Making your character in the Divinity world is now a much more elegant process. You sit down at the table, and within five minutes you've chosen 1 character, 2 pieces of equipment, 3 Talents, and 4 skills. That's it. There's still a huge amount of choice, of course. We've just cleaned up some of the more cluttered elements of your character's design.

We've also merged the skill school specialisation and talent system into one, so talents now provide carefully balanced and powerful upgrades to your character. This can either make it easier to quickly gain access to better skills, or specialise in unique abilities to better defeat your enemies.

Initiative

Hybridising the encounter book and board into the Storybook has allowed us to improve one of the long outstanding points of contention in our game's design. Initiative was quite fiddly in the past. Each individual unit had their own token. It was a lot to keep track of and it didn't really add much in the way of gameplay for interactivity. As a concept it was a good one, but in practice it just meant you needed to level up your initiative so as to not fall behind. There wasn't enough reward for investing in initiative versus ignoring it in favor of specialising your character in other ways.

As you can see, the Initiative track is now composed of three distinct sections. Number One is for Fast Monsters. P for the Party (made up of player characters and their allies and summons). Number Two is for Slow Monsters. The radically altered Initiative system not only simplifies the turn order, it also provides additional design space for skills the player or enemies might use. Manipulating their place on the initiative tracks for good or ill. Plus it's a strong example demonstrating how the simplification of a system can actually provide more depth in player interaction.

Wrapping Up

In summary, we've made a lot of vital changes to the game and there are a host of other improvements we've made that we'll be showing you in the near future: changes to how status works, skills are applied, enemies interact and much more. What's most exciting about all of this is how much of the base experience remains the same. While the overall glut of complication has been removed, the complexities of the design are still there - they're just much more cleverly hidden in order to avoid breaking immersion and pulling players out of the experience..

In the coming months we'll be diving deeper into these changes in future updates and explaining the reasons why we've made them, with greater detail. The layout design of the various boards will continue to improve and we'll also be recording new videos to showcase these gameplay changes and give you examples of all the improvements.

Timeline

We couldn't wait to tell you about the new team, and the new changes coming to the game. In our next update, we'll take you through what the game looks like from some of the team working on it.

We now have a better idea of the timeline and projections we have for the completion of the game. Over the next three to four months, we will be finishing the conversion of all locations into this new format and expect this to be completed by April. We'll be doing a lot of milestone testing coupled with rigorous playtesting during this time and will keep you updated along the way.

If all goes well, final playtests can happen in April/May of 2022, with the plan to go to print in the latter half of Q2 assuming all goes well. We project the print and production of the game will take at least two months, with another month dedicated to shipping the game to our various international distribution hubs. At a broad estimate the game should be shipping from your closest hub in Q3 of next year. Q4, if we run into any further delays.

As you know from how we've worked this project so far, if changes are needed we may need to delay further to make them right. But know that it's our desire to see this as our last push and get it over the line.

As always, we want to thank you for your patience as we work to bring you the best game possible - we're nearing the end of that journey now. But we understand that for some, the wait may be too long. With this in mind, you can claim a refund simply by messaging us on Kickstarter or emailing us on support [at] larian.com. Refunding will nullify your pledge and invalidate your purchase - but we hope you'll choose to buy the game once it is released. :)

Until our next Update, that's it from us. Thank you all again for your support and patience.

See You Next Time!