Hits: 520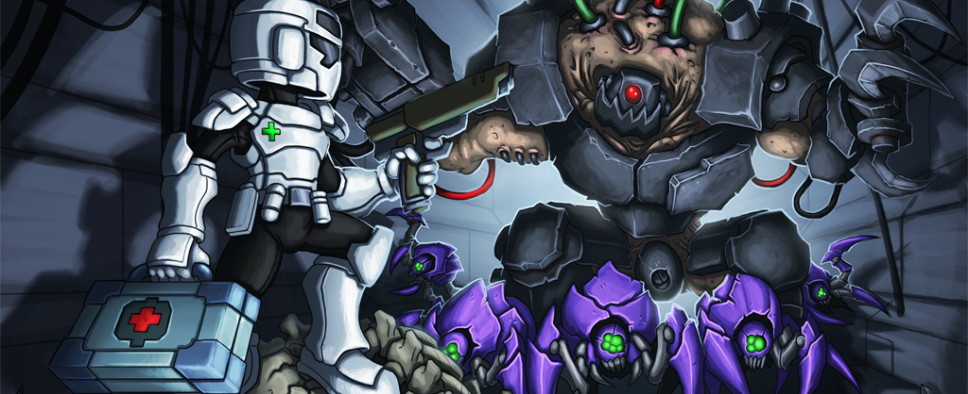 Say what you will, but as far as I'm concerned, we don't have nearly enough games that play like a traditional roguelike, but can boast real visuals, and don't require you to have a separate window open listing a million key bindings that haven't been necessary since the invention of the computer mouse.
As such, it is my pleasure to direct you to the Steam page for Sword of the Stars: The Pit 2, a 3D take on the classic formula of going down procedurally generated floors in a brisk turn-based fashion. The game should be launching into early access soon, and for now, here's a quick trailer:
And the game's description:
"A deadly plague ravages your world. Your last hope: a legendary alien facility dug deep into the Feldspar Mountains...a massive Pit, built by the ancient Suul'ka."

After the success of our Indie, Roguelike hit Sword of the Stars: The Pit in 2012, it's time to celebrate its 10th anniversary in 2022! Sword of the Stars: The Pit 2 is an update of the fun, fast, and light-hearted turn-based original, taking the game from its 2D retro-roots and into a fully 3D game world.

While we begin by updating The Pit for the present, join us as we take The Pit series to a whole new world!

Initial Early Access Features

(this list will be updated along with the game build)

5 Characters to choose from... Marine, Scout, Medic, and Engineer, and Gunny, a character hidden in the original game!
25 Levels of ancient evil science for you to dive into!
Improve your character by increasing your skills to help you survive the depths.
Dozens of enemies drawn from the Sword of the Stars universe!
A wide variety of weapons and armors including guns, blades, flamethrowers, rocket launchers, and more!
Over 150 items to discover, ranging from the familiar to ancient exotic tech.
Crafting lets you make special items from bits and pieces of your enemies.
Disassembling lets you break up certain items into craftable components
Dozens of room types containing a host of exotic devices to help - or maybe hinder - your progress.
Discover and decipher hidden messages, crafting recipes, and pieces of Sword of the Stars lore!
Many fiendish ways to die including poisoning, disease, traps, radiation, starvation.
Rotatable player camera.
You might also be interested in this message from Martin Cirulis, the CEO over at Kerberos Productions, that explains why this project exists:
That's right everybody! Not a trick! Not an Imaginary story! Not a 'What if?'!

It's true!

A turn based sequel to your favourite torturous dungeon crawl is officially on its way!

(ok, all those exclamation marks are exhausting me...I must be getting old)

The Pit 2 is coming and its closer than you think. It was pretty damn clear you all wanted a traditional turn based sequel to The Pit and, to be perfectly honest, that's been a hard sell in terms of finding a publishing partner. They love the numbers on the original game (thanks for all your endless play and support) but real-time was the constant demand...so, yeah, rock and a hard place time. But in the end, we have had to choose between safety and the fan base and that's never really been a choice, so we are going it alone and making the Pit 2 on our own, but also without lying, we will need all the help you guys can muster to make this huge.

THE NEAR FUTURE

So the first official thing you will see is the SotS2 preview page showing you a gameplay movie, screenshots and telling you that the game is coming to you in Early Access form very soon. This is where we hope most of the conversations with y'all will take place when it goes live.

THE START

The goal at the start of ER is to give supporters a full 25 level pit, high on functionality but kinda thin on content...for instance there will be only one hall/floor style for all 25 floors on opening day. But the aim for playability and challenge from the start and here is where you all can come in hopefully. This period will be the exact time to make your thoughts known. on things like GUI, Crafting, Balance, etc etc. And we will be depending on you to keep things focused on making the best upgrade to The Pit as possible.

We are hoping, depending on support levels, to be out of ER in less than 6 months. And the promise we will make is that regardless of support, anyone buying in will get a finished Pit. There will be no "oh well, didn't work, be happy with half a game."

THE MIDDLE GAME

Should all go well and there be enough support to prove the Pit 2 is a viable franchise, the Mind Games expansion will arrive to flesh everything out with Psionics and this will be the time to add all your opinions on the Psi realm of the game.

THE LONG GAME

And again, if enough of you come with, The Pit 2 shall go where no Pit has gone before. The shadowy planet of Caligo. What if there was a world where long ago, The Suulka used it as a hidden place to do much of their research and share data in an era of loose cooperation...what if their was a Planet of Pits...hmmm maybe this will be a What If? ;)

So there you go, official news finally! Many thanks to LuckyLuckLuc for letting me make the soft announcement during his Pit stream a week or so ago. If someone wants to repost the link to that here, I'd appreciate it. And please feel free to ask anything you are curious about but remember I will probably be keeping it brief until we are talking on the Pit2 Page.

Thanks again for the many years of support that made this even remotely possible!

Keep 'em flying!

--Mecron
(Martin Cirulis
CEO/Creative Director
Kerberos Productions)