Hits: 558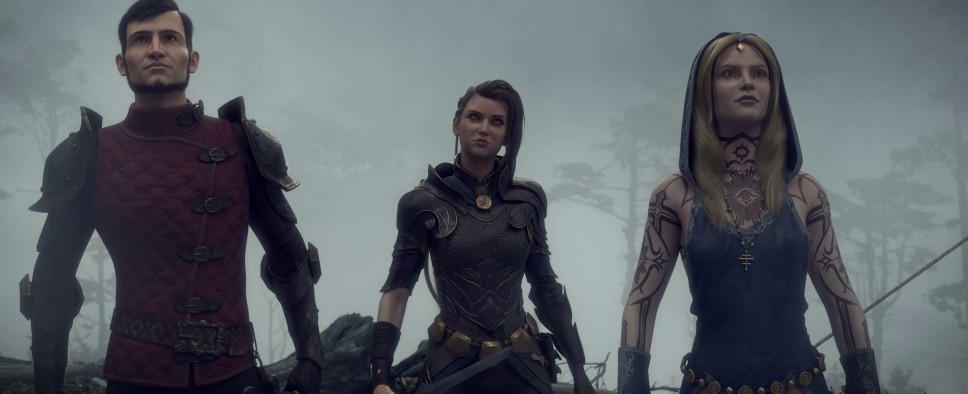 Barring any last-minute delays, Disciples: Liberation, Frima Studio and Kalypso Media's new entry in the venerable Disciples series, will be coming to PC, PlayStation 4/5, Xbox One and Xbox Series X/S on October 21, 2021.
Positioned as a new beginning for the franchise, Liberation will feature an expansive campaign, four playable factions, and plenty of tactical battles. Here's a quick teaser trailer:
And some gameplay, courtesy of IGN:
And here's a list of the game's key features:
Key features

80+ hour single-player campaign: experience a dark fantasy epic over three acts, with more than 270 quests and 5 unique endings
Explore a war-torn overworld: journey through 4 diverse environments – from luscious woodlands to fiery volcanic plains and icy tundra – and unearth the secrets hidden within the land
Journey together: join forces with 4 in-game factions - from proud elven clans to remorseless undead hordes, each with their own motivations and gameplay incentives
Write your own story: pick from 4 uniquely skilled classes and define your place in the world, recruiting others to take up arms for your cause
Build a base: take on quests for precious resources and use political savvy to build a place of planning and sanctuary
Fight for your life: recruit 50+ units and build an army best suited to your play style whilst honing both steel and spell in intricate-turned based combat
Challenge deadly bosses: pit your party against horrific monsters and beasts, each requiring a unique strategy
Choice is everything: let your decisions guide your fate and directly influence what sort of leader you become
Fight your friends: put forth the ultimate challenge and battle for supremacy in 2-player online skirmishes

Disciples: Liberation marks a new beginning for the franchise, allowing players to explore a richly detailed dark fantasy world, fight foul beasts in intricate turn-based combat, take on hundreds of unique quests and foster relationships with an assortment of in-world factions: from a human empire tinged by religious extremism to the dark forces of the undead lead by a mad queen. Alliances forged, players can build an army and trade hard-earned resources for an assortment of upgrades to their home base. No choice is without consequence and depending on decisions and political alignments, one wrong move could see a deadly domino effect, irrevocably changing the course of their story.
Then, you might want to check out some previews for this project. Let's start with IGN's article:
There's a fair bit of dungeon-crawling and open world exploration as well, including puzzles, traps, and side quests. It reminded me a fair bit of the Divinity: Original Sin games, except that combat takes place on a separate screen rather than out in the open world. And while I was told that my decisions regarding the various factions would eventually guide my story's outcomes, I didn't get to play long enough to really see how that plays out. Likewise, Avyanna usually gets the option between a "good", "bad," and "wild card" option in most dialogues, but this didn't look like it had any effect either mechanically or story-wise just yet.
"We wanted to revive it, and modernize it a bit of course, but we also wanted to stay true to the brand identity," Disciples: Liberation creative director Jordane Thiboust told GameSpot. "So we played the previous games, read tons of lore and fan theories. We even looked at cosplay that was done by fans in the past. It is like unearthing some forgotten treasure and every time you find something, it sparks new ideas. Disciples is niche indeed, but it was also greatly appreciated by the fans at the time, so our goal was clear: How do we revive it, while making it more popular than before?"
Most units have a single equip slot for a mana shard that is the total of their customisation. Otherwise they all have a regular level that be increased naturally through experience points or trained up by spending resources in Yllian. Story companions are similar, but can also receive a weapon on top of the mana shard. Avyanna, however, has multiple elements that can be changed, including a full set of equipment that is visible on her character model. After a certain point, she can change to one of four classes — Warlord, Hexblade, Seeress, and Witch — each with an additional advanced class unlocked down the line. She also has a skill tree, divided into three sections, and upon each level up she gains a point to spend on it. Players can readily reset Avyanna's skill tree and change class for a low cost, so they aren't locked into any character build decisions.
Disciples: Liberation doesn't go easy on you either – make a mistake and your enemies will capitalise upon it. With seemingly no option to use consumables like potions to restore the health of your units in battle, they can quickly be downed by enemies if you're not careful. Even worse, unless you recover them from the graveyard before battle ends, it seems like some units will be gone for good.