Hits: 1312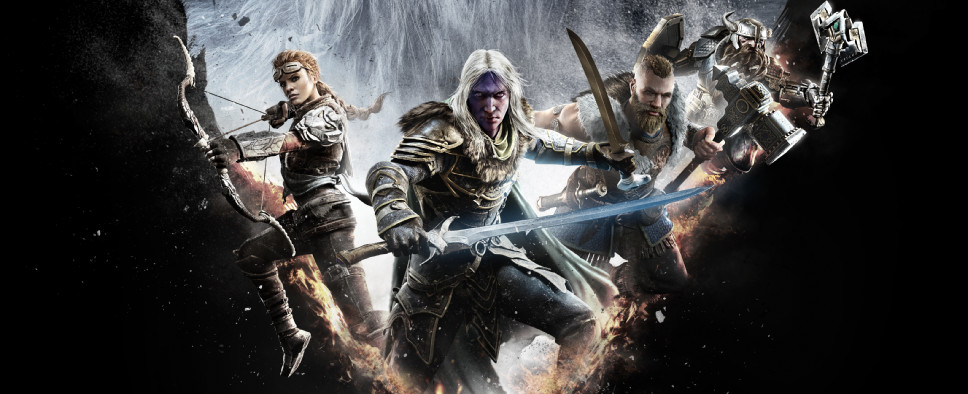 Tuque Games' D&D-flavored action-RPG Dungeons & Dragons: Dark Alliance is now live for PC, Xbox and PlayStation, priced at $39.99 or your regional equivalent, also available as part of the Xbox Game Pass subscription. The game will take us on a co-op focused journey to Icewind Dale where we'll be able to hack and slash our way through a bunch of monsters as the famed Companions of the Hall.
Here's the official launch trailer:
And the game's description:
Dark Alliance brings to life the world of Dungeons & Dragons in an explosive action brawler filled with real-time combat and dynamic co-op.

Frost giants and vengeful dragons roam unchecked through Icewind Dale as invading armies of evil grow stronger every day. Now four heroes must beat back the onslaught of creatures and defend against the dark.

If you want to experience the full immersion of Dark Alliance's combat system, a controller is strongly recommended.

Play as Iconic D&D Heroes
Choose one of four heroes from best-selling fantasy author R.A. Salvatore – Drizzt Do'Urden, Catti-brie, Wulfgar, and Bruenor Battlehammer. Each has their own unique playstyle and customizable abilities. Complete missions and vanquish bosses to unlock new skills and earn powerful gear, allowing players to take on even bigger challenges.

Fight Alongside Your Friends
Join up to three other friends and fight together in a dynamic co-op experience with explosive real-time combat. Unleash devastating combos as you topple unstoppable monsters too powerful to go it alone.

Conquer Unstoppable Monsters
Dark Alliance pits players against some of the most legendary monsters from the world of Dungeons & Dragons. Frost giants, Beholders, White Dragons—muster the strength to defeat them all against insurmountable odds.

Brave the Frozen Landscape
Dark Alliance brings to life the world of Dungeons & Dragons like never before. Explore the frigid and dangerous world of Icewind Dale as you defend your homeland from armies of abominable monsters.
You'll find some rather uneven reviews for the game below:
PC Gamer 82/100:
But bugs aside, Dark Alliance is a blast. It brings the world of Dungeons & Dragons to life brilliantly, with meaty combat, a gorgeous world, and some truly despicable monsters to carve up. It's a reminder of what makes the Forgotten Realms such a great fantasy setting, and a welcome chance to return to Icewind Dale, a place a lot of PC gamers, myself included, love. If you're more of an RPG fan, you might find the non-stop combat a bit much. This is a game about killing monsters above all—and it's some of the most joyously brutal monster-killin' on PC, even if you don't have anyone else to slay with.
IGN 4/10:
I badly wanted Dungeons & Dragons: Dark Alliance to be an awesome co-op version of the pencil-and-paper tabletop RPGs I've loved for decades, but it just isn't. It's a bland, boring trek through repetitive encounters that's filled with bugs and annoying design choices, and though it allows you to play alone you absolutely should not do that because it's an imbalanced nightmare. I can praise its faithful look and feel, which captures much of what makes Forgotten Realms a great setting, but there's very little else to recommend about this unpolished mess of a hack-and-slash RPG.
VentureBeat 3/5:
The more I think about my 20-or-so hours with Dark Alliance, the more I wonder if Tuque picked the right package for its good story about these characters. I get it wants to capture the flow-and-rush of combat that comes with Salvatore's books, but do games both heavy in story and combat combos work? In this case, they don't, because the combat doesn't live to the story's ambitions.
PCGamesN 5/10:
A cheeky take on Dungeons & Dragons lore isn't enough to carry the lacklustre combat, sluggish controls, and dodgy enemy hitboxes.
PC Invastion 3.5/10:
Dull and clunky, this is one hell of a weak, uninspired action game that's plagued with poor design choices and technical issues.
Shacknews 7/10:
Dungeons & Dragons: Dark Alliance delivers a solid D&D adventure, with exciting combat and a slew of monsters to take down. Though my experience was a bit dulled by crashes and some minor bugs, it certainly didn't ruin the game for me. Dark Alliance fits in nicely in the pantheon of Dungeons and Dragons games.