Hits: 1624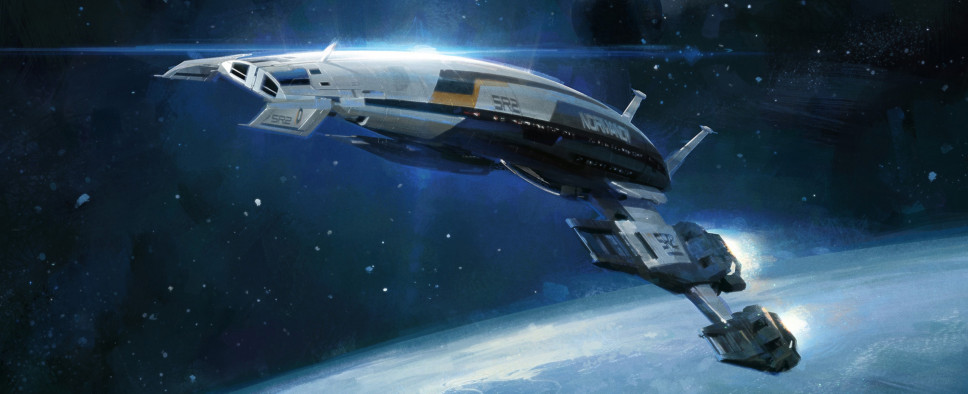 Mass Effect: Legendary Edition, a remastered re-release of BioWare's original Mass Effect trilogy, is now available on PC, PlayStation and Xbox, priced at $59.99 or your regional equivalent. Over here you can purchase the Legendary Edition for your platform of choice. This will get you the first three Mass Effect titles with (almost) all their DLC, updated visuals and mechanics.
Here's the official description:
One person is all that stands between humanity and the greatest threat it's ever faced. Relive the legend of Commander Shepard in the highly acclaimed Mass Effect trilogy with the Mass Effect™ Legendary Edition. Includes single-player base content and over 40 DLC from Mass Effect, Mass Effect 2, and Mass Effect 3 games, including promo weapons, armors and packs — remastered and optimized for 4K Ultra HD.

Experience an amazingly rich and detailed universe where your decisions have profound consequences on the action and the outcome.

Relive the Cinematic Saga

Heart-pounding action meets gripping interactive storytelling, where you decide how your unique story unfolds.

Three Games, One Launcher: Play through the single-player base content and over 40 DLC from all three games, including promo weapons, armors, and packs.
Remastered for a New Generation: Experience the trilogy in 4K Ultra HD with enhanced performance, visuals, and graphics, all available in HDR.
Visual Improvements on All 3 Games: Updates include enhanced models, shaders, FX, lighting and depth of field, plus full-resolution audio.

Experience the Legend of Shepard

Create and customize your own character — from appearance and skills to a personalized arsenal — then lead your elite recon squad across a galaxy in turmoil.

New Shepard Customizations: With improved hair, makeup, eye color and skin tones you can create your Shepard in a unified character creator with all options available across the full trilogy, or choose to play as the iconic Femshep from Mass Effect 3 now available in all titles.
Gameplay Enhancements for the First Mass Effect Game: Enjoy improved aiming and weapons balance, SFX, better Mako controls, input/controls, squad behavior, cover behavior and gameplay cameras.

Reflect on Your Choices

Your choices seamlessly travel from one game to the next. Each decision you make will control the outcome of every mission, every relationship, every battle — and even the fate of the galaxy itself.

Visual Enhancements for the First Mass Effect Game: The game's been given a full world-building pass including environmental art, VFX and level relighting.
PC Updates: Enjoy a modernized PC experience across all three games with native controller and 21:9 widescreen support, user interface navigation improvements, and DirectX 11 compatibility.

Included Content

Mass Effect Legendary Edition includes single-player base content for all 3 titles (Mass Effect, Mass Effect 2 and Mass Effect 3), your favorite single-player story DLC, promo weapons, armors and packs:

DLC: Bring Down the Sky, Genesis, Zaeed — The Price of Revenge, Kasumi — Stolen Memory, Lair of the Shadow Broker, Firewalker Pack, Overlord, Normandy Crash Site, Arrival, Genesis 2, From Ashes, Mass Effect 3: Extended Cut, Leviathan, Omega and Citadel.
Weapons and Armor: Cerberus Weapons and Armor, Arc Projector, Collector's Weapon and Armor, Terminus Weapon and Armor, M-21 Incisor, Blood Dragon Armor, Inferno Armor, Recon Hood, Sentry Interface, Umbra Visor, N7 Warfare Gear, AT-12 Raider, Chakram Launcher, M-55 Argus, M-90 Indra and Reckoner Knight Armor.
Packs: Equalizer Pack, Aegis Pack, Firepower Pack, Groundside Resistance Pack, Recon Operations Pack, Firefight Pack, ME2 Alternate Appearance Pack 1, ME2 Alternate Appearance Pack 2, ME3 Alternate Appearance Pack 1, and N7 Collector's Edition Pack.
Then, you might be interested in some reviews for the re-release. You can find a few below:
GameInformer 9/10:
Even all these years later, Commander Shepard is a powerful force that lives up to their iconic status, and the trilogy is still captivating and worth your time.
GameGrin 10/10:
Mass Effect: Legendary Edition is a phenomenal remaster of the original trilogy, with enough changes to not only feel fresh, but with enough quality-of-life improvements to truly call this the definitive way to play the Mass Effect trilogy.
Stevivor 8.5/10:
Should you play Mass Effect Legendary Edition? Of course you should. This is BioWare firing — for the most part — on all cylinders and hopefully is the dawn of a new resurgence of the franchise (fingers crossed for EA Play 2021!). Get in, get immersed, explore the galaxy and defend it from a once in a 50,000 year occurence. Then head on over to Andromeda to appreciate that before the next adventures in the Sol system take place.
Press Start Australia 9.5/10:
Mass Effect: Legendary Edition stands tall as one of the best remasters that I've ever played. The amount of care and effort that has gone into restoring the original Mass Effect along with the other two games is unmatched. While there are some underlying minor design issues with the original game, Legendary Edition is the best way to experience the Mass Effect trilogy. Period.
Fextralife Scoreless:
If you are a big fan of this series, I was getting goosebumps watching the opening cutscene. It was that good, literal goosebumps. If you are a fan of this series, you are going to love this game and if you are new to this franchise it is probably good enough Mass Effect 1 to get you through Mass Effect 2 and 3 with very little complaints.

For me this is a slam dunk day one buy, no problems with the game and it looks great, plays great. One of the best roleplaying games of all time and they are definitely a day one buy.
And beyond just the reviews, you should also check out this CNET interview focusing on the trilogy's controversial ending and the third game's multiplayer functionality. And then, you might want to follow that up with this Eurogamer interview that takes a closer look at the series' tangled narrative.