Hits: 366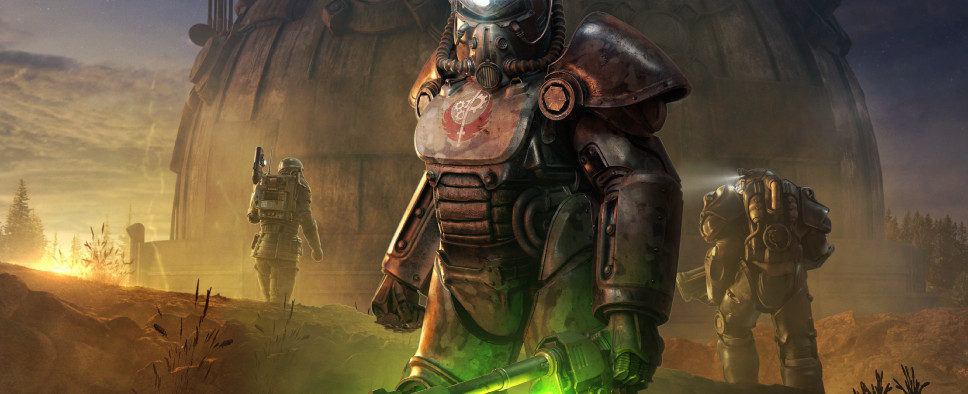 The big Locked and Loaded update for Fallout 76 will be going live on April 27, 2021, and with it, we'll be getting a new Season, featuring fresh challenges and rewards. This development update tells us more about those, as well as some upcoming in-game events. Have a look:
The Locked and Loaded update for Fallout 76 is just around the corner! When it arrives on April 27, we're also planning to kick off Fallout 76 Season 4 and introduce a new Armor Ace themed Scoreboard. Read on to learn about our next Season, as well as catch a preview of the rank-up rewards that will be yours for the taking. We've also included our latest Community Calendar, so that you can keep your finger on the pulse of weekend activities and game updates through July. Finally, we're sharing details for our next Double S.C.O.R.E. Weekend, which begins later today.

INTRODUCING FALLOUT 76 SEASON 4

Starting April 27, we'll be rejoining Armor Ace and the Power Patrol for Fallout 76 Season 4. On the new "Armor Ace in Cold Steel" Scoreboard, our intrepid defender of liberty heads north to square off against the fearsome Commissioner Chaos and his rogue band of robots, the Yukon Five. In what's sure to be a battle for the ages, Armor Ace and the Power Patrol will go toe-to-toe with each of the Five, one-by-one. Will Armor Ace best the bots, or will the Commissioner deliver a knockout punch to our heroes? Be sure to rank up this Season to follow along with their frigid rivalry!

REWARD HIGHLIGHTS

Season 4 features 100 ranks for you to achieve, and a broad assortment of rewards that you can claim when you rank-up during your Season journey. As the showdown between Armor Ace and Commissioner Chaos plays out on the Scoreboard, you'll be able to unlock brand-new items that are making their debut as rewards, like Mannequins, Tadpole Badges, Sugar-free Nukashine, and Rad Ant Weight Lager. You'll also be able to fill your arsenal with new Power Armor and Weapon skins, adorn your Appalachian abode with new C.A.M.P. items, and step into new cosmetic outfits. Here's a rundown on some of the items we've forged for Season 4 that we're excited to get into your hands:

Mannequins – Flaunt some of your favorite outfits with a set of male and female Mannequins for your C.A.M.P.
Power Armor – Align yourself with Commissioner Chaos by stepping into Yukon Five themed Power Armor paints.
Weapon Skins – Strike fear into your foes with the Death's Breath Flamer Skin. You'll also be able to earn new paints for the Gatling Plasma, Lever Action Rifle, and more.
C.A.M.P. Objects – Farm your very own Honey with the new Beehive. Then, dazzle your visitors with the Tree Branch Chandelier, new Wallpapers, Floors, and even a Gold Toilet!
Nuka-Cola Collectron – With this new bot in your CAMP, you won't need to spend any more time scavenging the Wasteland for a refreshing Nuka-Cola.
Backpack Flairs – Show off your love for the Power Patrol by decorating your backpack with action figures of your favorite characters.
Tadpole Badges – Fill your Tadpole Scout Sash with even more badges by ranking up, and then turn them in at a Pioneer Scouts Vending Machine to claim Scout-themed rewards.
Sugar-Free Nukashine – All the benefits of everyone's favorite party beverage, with none of the syrupy aftertaste (or sudden memory loss)!
Carry Weight Booster – Take a swig of this buffed up brew to carry an additional 50 pounds for 30 minutes.

Many reward types that you're already familiar with will be returning this Season, like consumables, in-game currencies, Atoms, Perk Card Packs, and more. Finally, we've once again added a few bonus rewards that Fallout 1st members can earn at certain Scoreboard milestones in addition to the standard rewards those ranks offer.

Thanks for joining us for this preview of our upcoming Season and Scoreboard! Be sure to visit the Seasons page on Fallout.com to catch even more information about Season 4 and to preview the rewards.

CATCH THE LATEST COMMUNITY CALENDAR

In case you missed it, we recently released our 2021 Roadmap for Fallout 76, which outlined much of the new content and features that we're working to implement this year. In between our major game updates, however, there's almost always something fun happening in Appalachia that you can take part in. From Purveyor Sales to Hunt for the Treasure Hunter events, you can stay on top of everything that's taking place in the Wasteland each week with our latest Community Calendar. Be sure to set reminders for the updates, community activities, and weekend events that catch your eye so that you don't miss out on any of the action[...]

DOUBLE S.C.O.R.E. DAILIES THIS WEEKEND

K.D. Inkwell is preparing to warp to her next temporal adventure, because Season 3 is coming to a close on April 27. Before she bids farewell to this timeline, she's made another tweak to her equipment to give you one last boost toward the end of the Scoreboard. Over the next few days, you'll earn double the normal S.C.O.R.E. from each Daily Challenge you complete. Be sure to log in and finish up your Challenges each day this weekend to rank up and claim rewards twice as quickly. Catch the event dates and times below, and we'll see you at rank 100.

DOUBLE S.C.O.R.E. WEEKEND DETAILS

Event Start: 12:00 p.m. ET on Thursday, April 15
Event End: 12:00 p.m. ET on Monday, April 19

As a reminder, any rewards you unlocked on the Scoreboard that remain unclaimed when the Season ends will slip away with the sands of time. Be sure to visit the Scoreboard to scoop up any unclaimed rewards you may have before April 27.